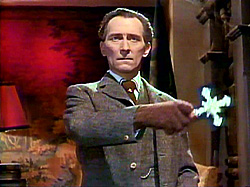 With the success of Stephenie Meyer's Twilight series of books, and the subsequent films, at least in the minds of some in popular culture, it is only natural that others would want to cash in on religiously-infused vampire literature. Meyer incorporated aspects of her Mormon faith in her novels, and now evangelicals are incorporating their own faith in a new batch of novels.
In an article in Christianity Today online titled "There's Power in the Blood," Elrena Evans  discusses how evangelical authors are tapping into the continued popularity of vampire mythology by producing their own Christianized novels that draw upon the iconic monster. While I am pleased to see a major Christian publication addressing the topic of vampires in popular culture, nevertheless the article, and especially the subsequent comments by readers that follow it, raise concerns.
First, as I have written previously in connection with Christians and horror in general, I am troubled by the evangelical tendency to notice a popular area of culture, and then rather than entering into that aspect of culture and participating in it on its own terms, a Christian version is created that is then consumed by the evangelical subculture. In this context I believe that much of the mythic and subversive value of vampires as objects for social, cultural, and religious reflection is lost through this process.
Second, among the various individuals quoted in the article as reliable sources of information on the topic, Christianity Today approvingly quotes William Schnoebelen who shares his perspective as a former member "of a vampire sect." According to new religions scholar Douglas Cowan, author of books on new religions as well as horror and popular culture, "Schnoebelen claims to have been a Wiccan High Priest, a Satanist High Priest, a Master Mason, an Old Order Catholic priest, a Temple Mormon, and teach of witchcraft, Qabalah, and ceremonial magick with over sixteen years experience." However, Schnoebelen's descriptions of these spiritual and religious pathways, not to mention his personal narrative of alleged involvement with them, raises serious questions as to whether he was a member of any of them. Regardless of the latter concern, in terms of the former he is certainly not a reliable source to be consulted on vampires in popular culture. Christianity Today would have been better served through bypassing Schnoebelen, and seeking more extensive comments from new religions and vampire scholar Gordon Melton, whose work is referenced earlier in the article, or young scholars of new religions and pop culture like Joseph Laycock, author of Vampires Today: The Truth of Modern Vampirism (Praeger, 2009).
Third, as some of the comments on Evans's article indicate, many evangelicals and fundamentalists equate vampires with witchcraft and "the occult," not by building a solid case and connecting the dots from folklore, literature, and cinema to esotericism or today's expressions of vampirism, but by mere assumption and bold assertion. This demonstrates a serious misunderstanding of Western esotericism, not to mention vampire mythology and horror. An apology is owed to esotericists and members of the vampire subculture for such misrepresentations, and I renew my previous call for evangelicals and other Christians to move beyond their knee-jerk revulsion of horror to more critical and cautious forms of engagement.
Finally, this dual response of evangelicals to vampire popularity in terms of creating their own subcultural version of a pop culture monster, coupled with shock and disgust at the prospect as somehow anti-Christian, is a reminder of the stunted theological imagination that many evangelicals, and certainly fundamentalists, have in regards to the fantastic. C. S. Lewis and J. R. R. Tolkien, as well as the other Inklings, are frequently looked to by evangelicals with fondness as Patron Saints of the Fantastic due to their their ability to combine fantasy and science fiction with theological vision, yet somehow this usually does not translate to positive assessments of these genres in contemporary pop culture, and certainly not for sci-fi and fantasy's "dark cousin" in the form of horror. Evangelicals desperately need to revisit the legacy of these influential fantasy writers in order to feed the theological imagination related to the fantastic, including horror, which has a long association with religion, including Christianity.
Perhaps I'm unrealistic, and asking too much, but if conservative Christians want to speak at all on these topics beyond their own subculture they'll have to do far better than this.
Related articles:
"Christianity and Horror Redux: From Knee-Jerk Revulsion to Critical Engagement"
"Rue Morgue - Divinity in Darkness: The Rise of Christian Horror"
"Horror and Christianity: Continued Questions of Compatibility"
"Joseph Laycock: Vampires Today"