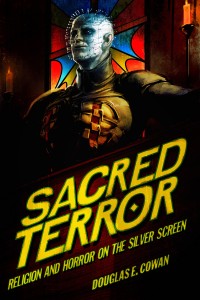 One of the reasons why I created TheoFantastique was to explore some of the deeper sociological, cultural, and even religious aspects of horror, sci fi and fantasy. Thankfully I am not alone in this interest, as evidenced by one of my fellow explorers, my friend Douglas Cowan, Associate Professor of Religious Studies and Social Development Studies at Renison University College, University of Waterloo.
Doug and I have been discussing our common interest in horror and religion for some time, and this resulted in a series of conversations that formed some of the backdrop for Doug's new book Sacred Terror: Religion and Horror in the Silver Screen (Baylor University Press, 2008).
Sacred Terror reveals how religion and religious images play an integral role in the success of horror films. When there are so many other scary things around, why is religion so often used? Cowan argues that horror films are opportune vehicles for externalizing the fears that lie inside our religious selves; what scares us reveals important aspects of who we are, both as individuals and as a society. Six basic themes of fear are explored in Sacred Terror: fear of evil; of the flesh; of sacred places; of change in the sacred order; of the supernatural gone out of control; of death, dying badly, or not remaining dead; of fanaticism; and of the power - and the powerlessness - of religion. Sacred Terror is groundbreaking work that will appeal to readers of film studies and religion studies as well as horror film fans.
John Lyden, Professor and Chair of Religion at Dana College and author of Film as Religion: Myth, Morals and Rituals (New York University Press, 2003), endorses the book with these comments:
"Horror films have been largely neglected or denigrated by scholars of religion and film. Cowan offers a new approach, arguing that religious elements are central to the success of horror. He debunks the myth that modern secular rationalism has banished the ghosts of the past, demonstrating that religion-related fears of death, damnation, supernatural forces, and religious 'others' often support the continuing ability of horror to terrify and create frisson. A book that is both entertaining and important!"
I highly recommend this book for students of horror films who want to explore an often neglected or misunderstood facet of them. Douglas Cowan and Baylor University Press have done us a service with this new volume.
Look for a future volume from Cowan that explores the religious dimensions of science fiction. A few hints of what may be in store in this volume are evident from my interactions with one of Cowan's papers on The War of the Worlds.