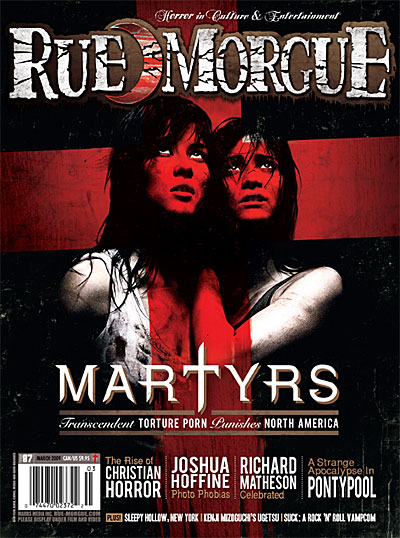 The cover of the current issue of Rue Morgue magazine, Issue #87 highlights a double referent in its contents which dovetail with an emphasis of this blog in its analysis of the religious and social aspects of horror and the fantastic. The cover points toward an article on "Pascal Laugier's religious-themed torture porn," but of real interest is the article by Lea Lawrynowicz titled "Divinity in Darkness: The Rise of Christian Horror."
I was pleased to see Rue Morgue delve into the arena of religion and horror in general, and horror and Christianity in particular, and while there are some helpful aspects to the article's treatment of this topic, it could have been a stronger piece in my view.
The author expresses surprise at the outset by stating that "the idea of Christian horror is an oxymoron - opposites that just don't attract." In my thinking while this might echo the sentiments of many evangelical and fundamentalist Protestants, as well as secular horror fans, it does not include, as the late Paul Harvey used to say, "the rest of the story." As horror has developed in various cultures through history it quite naturally has reflected various cultural elements and influences. This is the case in the Western world as well where Christianity has been the dominant religious expression. Therefore it should not be a surprise to find that Christianity and horror have had a long relationship, perhaps most visible in the Gothic horror tradition. Whether this can be construed as "Christian horror" is a debatable point, and I'm willing to give Lawrynowicz some slack here, but the point is that Christianity and horror may not have "exactly proven to the be the friendliest of bedfellows," they have had a relationship in the past as well as the present, and some of us believe they are friendlier bedfellows than many on both sides of this discussion might like to admit.
I was pleased to see the article interact quite a bit with the thinking of Scott Derrickson, a Hollywood director who has been involved with a number of horror and science fiction films, from Hellraiser: Inferno, Urban Legends: Final Cut, The Exorcism of Emily Rose, and most recently, The Day the Earth Stood Still. Derrickson openly presents his embrace of both horror and his Christian faith, a stance I share with this young director. I found myself resonating with many of his comments particular as he shared his concerns over his own experiences in his youth with Christian fundamentalism which is, in his view, "rooted in fear." He now channels these experience into his production of horror films.
But while Derrickson appreciates horror as a religious person he "eschews the Christian horror label," another area in which he and I are in agreement. For one the definition is hard to make and sustain, especially since some want to include The Exorcist and The Omen in this subgenre. These films seem to be better classified as horror films which draw upon the Christian tradition, particularly in its demonology and ideas on the supernatural as they related to the battle between good vs. evil, but to classify them as Christian horror seems like a stretch to me, and one which does a disservice to the films themselves.
Beyond this, the article touches on a new wave of "Christian horror" in popular culture that seeks to draw upon the genre but do so in ways that won't offend its conservative Christian (largely evangelical) audience, by removing sex, violence, and gore. Since these items have been part and parcel of horror in varying degrees since the genre developed, I wonder whether it is fair to consider Christian horror as horror. Surely they have the right to draw upon the genre for entertainment and as a source of moral tale-telling, but in producing it in this sanitized fashion they remove much of the power and subversiveness which makes horror such an excellent vehicle for not only frightening, but also for providing the fodder for cultural, social, and even religious reflection.
It would also seem that with Christian horror many conservative Christians want to have their horror cake and eat it too. Publishers Weekly noted that in general speculative fiction does not do well in this market due to its edginess and concerns over its "darkness." A common stereotype in this area is that horror is incompatible with proper Christianity, as is fantasy and science fiction much of the time, unless of course the authors are C. S. Lewis or J. R. R. Tolkien, but even then at times these authors or their artistic medium are viewed as suspect. How can horror and other aspects of the fantastic be eschewed by and large and yet also sanitized so as to be permissible in certain contexts?
For my part I think that Christians are missing out on something that can easily be connected to their faith. The Bible itself is filled with monsters like the Behemoth, and the Judeo-Christian creation stories frame the work of creation in response to the gods of chaos as Yahweh brings order out of disorder. The New Testament speaks of a great Dragon and includes stories of possession and exorcism, and of course the Book of Revelation has provided the imaginative fodder for a host of apocalyptic visions and stories.
Perhaps our world is indeed one of "gods and monsters." If this is the case then Christianity and horror are neither unmixable elements like oil and water, nor a brew which needs to be sanitized like beer without any alcohol in order to be enjoyed.
Related posts:
Interview with Scott Derrickson on The Day the Earth Stood Still.
Interview with Douglas Cowan on the book Sacred Terror (Baylor University Press, 2008).
"Christianity and Horror Redux: From Knee-Jerk Revulsion to Critical Engagement"