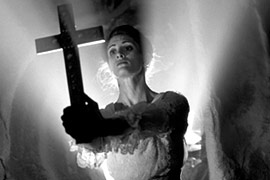 I didn't know my posted commentary would lead to a lively discussion in the blogosphere and on the broader Internet, but this seems to be the case.
Over a year ago I started TheoFantastique as a way in which to express my appreciation for the fantastic, to probe in depth the various genres that make up the fantastic as they are expressed in popular culture, and to also explore the ways in which religion and spirituality influence these genres at times. I have done so as a person of faith, and I see no incompatibility between my faith commitments and my appreciation for the fantastic, including horror. In fact, I have argued that those who share my faith commitments are the ones out of touch with a significant expression of what it means to be human, and a means of engaging others on issues of cultural and religious significance. I have written a few essays on this topic, including "Christianity and Horror Redux: From Knee-Jerk Revulsion to Critical Engagement," which was aimed at a Christian audience, and more recently, "Divinity into Darkness: The Rise of Christian Horror," for a general reading audience in response to a recent article on the topic in Rue Morgue magazine.
I know my views on such things are not widely held in conservative Christian circles, but what did surprise me was to find similar sentiments alleging incompatibility between Christianity and horror from a very different metaphysical perspective. One of my fellow LOTTD members, Curt Purcell of the great The Groovy Age of Horror blog, weighed in with his thoughts on incompatibility in "Thoughts on Christian Horror." This led to a number of comments and lively discussion on the topic, including a few comments of my own. I will add here though that in my view Purcell seems to be defining his terms and concepts, including "Christianity," "horror" and "compatibility" in ways far different from my own, but interestingly and seemingly in common with fundamentalist and evangelical Christians who likewise find horror and Christianity incompatible bedfellows. With this discussion at The Groovy Age of Horror I thought the topic would be laid to rest. Not so.
Yesterday I discovered that Steve Biodrowski of Cinefantastique Online picked up on the discussion and the interaction, weighing in with his own perspective in an essay titled "Sense of Wonder: Bashing Christian Horror." Readers of this piece will see that Biodrowski disagrees with Purcell in a few arguments similar to my own.
Readers know where I stand on the issues, as evidenced by my specific writing on the topic, and the overall thrust of TheoFantastique which tries to exemplify not only a compatibility between the fantastic and the transcendent, but also an enriching partnership. I share these items so that my readers will become aware of the discussion on this topic, and in the hopes that they might join in the conversation.