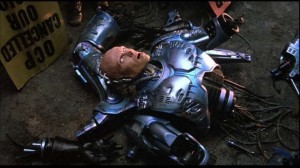 The Real History of Science Fiction aired with its first installment last weekend on BBC America as it tackled the subject of robots. This series is narrated by Mark Gatiss who has done some great documentary work on horror featured here at TheoFantastique previously. It is difficult to tell from the series website whether Gatiss is involved in the project beyond narration.
Like many such documentaries there was little new or in-depth for those immersed in genre. In addition, the choice of characters to focus on in discussing the theme skipped over some major possibilities that could have helped illustrate the points they wanted to make.
But there was one highlight in keeping with the focus of TheoFantastique. At one point in the program Paul Verhoeven, director of Robocop (1987), shares his thoughts on the subject, specifically about cyborgs and how much humanity is left in the machine-human hybrid. He includes some interesting and unexpected commentary on the "deeper meaning" behind the film. He speaks of the police officer slain and transformed into "robocop" as an expression of the symbolism of crucifixion and resurrection. For Verhoeven the symbolism had definite theological meaning.
Next week's episode of The Real History of Science Fiction focuses on the general theme of space.
Related posts:
"Robert Geraci: Robots and the Sacred in Science Fiction"
"Cautious Consideration of Christ Figures"
"Documentary: Horror Europa with Mark Gatiss"
"BBC Four Documentary: A History of Horror with Mark Gatiss"