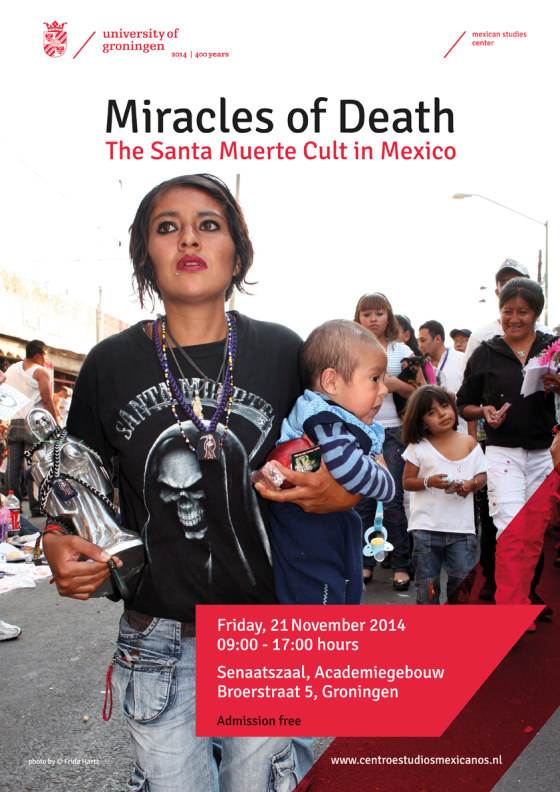 Santa Muerta, the Saint of Death, and the international following she has is an area of interest here at TheoFantastique. R. Andrew Chestnut, author of Devoted to Death: Santa Muerta, the Skeleton Saint (Oxford University Press, 2012), recently posted on his blog regarding his thoughts on an international conference in the Netherlands that brought scholars together to discuss differing perspectives on this phenomenon. Here's an excerpt:
Despite the fact that over 90% of Santa Muerte devotees live in Mexico and the U.S., the first ever academic conference http://www.centroestudiosmexicanos.nl/2014.html  dedicated exclusively to the skeleton saint was held in Europe, at the University of Groningen, in the Netherlands, on 11/21/14. Europeans have taken a particular interest in the growth of devotion to Saint Death partly because of the historical link to their own Grim Reaper or Reapress (la Parca) in the case of Spain.  Reflecting the increasing  globalization of the Americas' fastest growing new religious movement,  the scholars presenting on Santa Muerte hailed from many different countries, including Mexico, the U.S., Germany, Denmark,  Spain and the UK.
To read more about the conference and Chestnut's observations click here. Chestnut will be interviewed here about Santa Muerta in the near future.