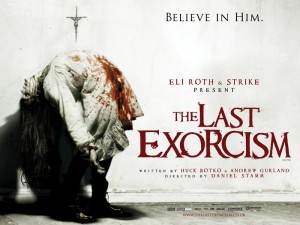 A consideration of recent items in popular culture reveals that Satan is a popular figure. Eli Roth's The Last Exorcism is at the top of the box office at the time of the writing of this post, and seems to be well received by many horror film websites and blogs. In turn, the release of The Last Exorcism, and its similarities to The Exorcism of Emily Rose, has led to a reevaluation of the latter at Cinefantastique Online. Devil, based upon a story by M. Night Shyamalan, which tells the story of a small group of people trapped in an elevator one of whom is allegedly the character named in the title of the film, opens in October. And a new documentary will be released, The Haunted Boy: The Secret Diary of The Exorcist, which purports to research the case upon which The Exorcist was based, although a look at the film's trailer indicates that it is not a strict documentary, but rather is a hybrid composed of part documentary, part paranormal/ghost hunter program.
With all of this Satanic cinema spectacle we might pause and ask why the Devil is so prevalent. As W. Scott Poole has noted in his book Satan in America: The Devil We Know (Rowman & Littlefield, 2009), "the devil played a significant, and at moments determinative, role in the shaping of the American religious and popular imagination." Even in a post-Christendom, late modern cultural context, the current focus on Satan in horror appears to substantiate Poole's claim for not only America's past, but also into the present. Given all of the threats around us, whether economic collapse, rogue nuclear nations, or environmental degradation, perhaps some see a Satanic hand at work, while others benefit from a mythic construct of the figure of Satan as an embodiment of whatever evil they fear.
Film trailers and related videos for this post topic, and others, can be found at the TheoFantastique YouTube Channel. And, of course, copies of The Exorcist and The Exorcism of Emily Rose can be purchased through the TheoFantastique Store.
Related posts:
"Scott Poole: Satan in America"
"Carrol L. Fry-Cinema of the Occult: New Age, Satanism, Wicca and Spiritualism in Film"
"Paul Meehan: Cinema of the Psychic Realm"
Joseph Laycock: The Exorcist, Secularization and Folk Piety"