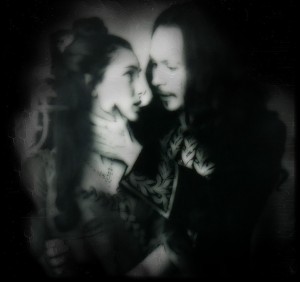 The Popular Culture and American Culture Associations are issuing their last call for papers on the topic of "Vampire Love:"
2010 Film & History Conference: Representations of Love in Film and Television, November 11-14, 2010, Hyatt Regency Milwaukee, www.uwosh.edu/filmandhistory
Third Round Deadline: June 1, 2010, AREA: Vampire Love.
The history of film is regularly punctuated by vampiric manifestations. From the earliest surviving film, 1922's Nosferatu, Eine Symphonie des Grauens, to the currently popular Twilight saga, cinematic vampires, by virtue perhaps of nothing more than the physical intimacy of their feeding habits and the exchange of bodily fluids, have been viewed as sexual creatures. Or is there more to it? Does the nature of this sexualization change over time? Does Max Schreck's Nosferatu devise a complex metaphor for venereal disease? Does Bela Lugosi represent American fears about "decadent" European sexuality or Western fears about sexually predacious male behavior? How might vampirism in 1936's Dracula's Daughter be viewed as an expression of lesbian desire? Do the Hammer Studios Dracula films of Christopher Lee reflect cultural anxieties about juvenile sexuality? Are the lesbian vampire films of the 1970s a symbol of homosexual liberation or an expression of male anxieties about uncontrolled female sexuality? Does the post-millennial increase in sympathetic depictions of vampirism reflect a liberalizing shift in
cultural attitudes toward the erotic—or to something else?
Topics might include the following:
The sexual overtones of lost vampire films of the Silent Era (there are at least 22)
Comparisons of vampiric bloodlust to contemporary depictions of sexual
desire
Portrayals of women as victims or as predators
Femme fatales and lesbian vampires
Vampire film as index of changing sexual attitudes
Depression vampires, Cold War vampires, 21st century vampires
The vampire's bite as sexual liberation or as curse
Influences from (and upon) romance genres
Vampire as sexual opportunists
Vampires as idealized lovers
Comical romance and vampiric lust
Family love and vampire love
Please send your 200-word proposal by e-mail to the area chair:
Daniel Schnopp-Wyatt, School of Professional Counseling, Lindsey Wilson College, 210 Lindsey Wilson Street, Columbia, KY 42728, Email: daniel.schnopp-wyatt@lindseyspc.org (email submissions preferred)
Panel proposals for up to four presenters are also welcome, but each presenter must submit his or her own paper proposal. For updates and registration information about the upcoming meeting, see the Film & History website (www.uwosh.edu/filmandhistory).
My hope is that the submissions and presentations will help generate new understandings of this long-explored facet of vampires in film. I would also like to see future conferences explore this topic in the zombie. To my knowledge this has yet to be considered, and only one film comes  to mind where the topic is raised, and that is, believe it or not, the comedy-horror Fido. If this is correct we might ask why various issues surrounding late modern conceptions of the body do or do not lend themselves well to the exploration of romance and sexuality in connection with the zombie, particularly since filmmakers continue to produce zombie films. Romero himself is a one-man zombie film production factory who often incorporates social and cultural commentary in his films. Why not romance and sexuality in regards to these monstrous icons? After all, they are us, void of reason and operating on instinct and dim memories of life. Aren't romance and sexuality an important part of human nature in this regard?
Related posts
"Romance, Gender, and Horror Icons"
"Fido: Rewarding Zombie Comedy Provides for Social and Theological Reflection"