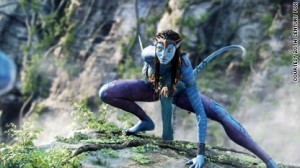 In my previous post I commented on Hollywood's lack of public recognition of the significance of films of the fantastic as demonstrated through the Academy Awards. Although three such genre films were nominated, including District Nine, Star Trek, and Avatar, predictably none of them won in major categories, and Avatar did not win Best Picture. As commentators struggle with the reasons why, in the case of Avatar the lack of critical support may come from a clash of worldviews. At least that's what Bron Taylor argues in a recent article in Religion Dispatches. Despite the film's popular success, in large measure because of the growing affinity between audience members and nature, Taylor argues in "War of the Worldviews: Why Avatar Lost" that this message was too unsettling to permit Avatar's selection for Best Picture:
This affinity for nature may explain the global appeal of Avatar but not why it ran second in the Oscar competition. Ironically, in the battle between these cinematic epics, The Hurt Locker was portrayed as countercultural, when it actually pandered to patriotic convention. Meanwhile, Avatar was cast as technologically radical while few commented on its radical critique of a militarized technological civilization, or on its countercultural religious vision. These are things some Academy voters, little doubt, found too radical to support.
Given the likelihood that many Academy members may be progressive rather than conservative, and thus are more likely to embrace a sacralized view of nature and a critique of America's current war efforts, I don't know that I find Taylor's argument persuasive. I find it more likely that drama wins out over science fiction as the genre for "serious" film making and social commentary, but Taylor's thesis is worth considering.
Related post:
"Avatar's Success: Romantic Narratives and Dark Green Religion"