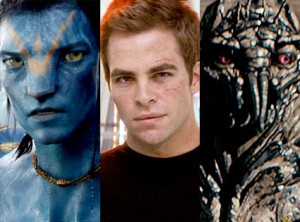 It was just last month that the media took note of Hollywood's recognition of the significance of science fiction with the nominations of Avatar, Star Trek, and District 9 for Academy Awards. In an article titled "Otherworldly and Oscar-worthy: Science fiction's profile soars," USA Today writes, quoting Vivian Sobchak, author of Screening Space: The American Science Fiction Film:
"The genre now has in essence been made legit by the academy's imprimatur. This alone will bring about more greenlighting of sci-fi films," she says. "That said, I'd hesitate to call this a resurgence of sci-fi moviemaking. Because really, they've always been here."
But as quickly as the optimism and hope arose among fans it was just as quickly dashed with the results of the recent Oscar ceremonies. Steve Biodrowski of Cinefantatique Online describes the recent sci-fi snub:
Going into Sunday evening, the 2010 Academy Awards presentation had ample opportunity to break with their standard tradition of snubbing horror, fantasy, and science fiction films in all but technical categories: two major films, AVATAR and DISTRICT 9, had been nominated not only for Best Picture but also in other top categories, such as Direction and/or Screenplay. However, when the dust settled and the wins counted at the end of the night, it was the same-old story, with cinefantastique shut out of all but a handful of categories: science fiction and fantasy films wound up with a total of six Oscar statues, almost all of them in technical categories.
Although fantasy, science fiction, and even horror films (if one includes Jaws in this category) have been some of the best box office success stories, the Academy of Motion Picture Arts and Sciences continues to snub these genres while withholding the critical and artistic acclaim they deserve. For an alternative see the annual Cinefantastique Wonder Awards.