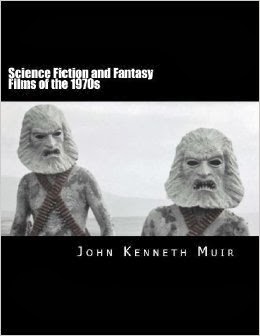 One of the best writers analyzing contemporary genre film and television is John Kenneth Muir. His new volume adds to an impressive body of work with Science Fiction and Fantasy Films of the 1970s (The Lulu Show, 2013).
In this volume he follows a template used in his previous work. Following a helpful Introduction to films of the decade, Muir proceeds to consider each genre film during a given year as it came out in theaters and as it will be remembered by viewers. Prior to the discussion of the films for each year he includes a list of significant historical events that took place during that period, which helps place these films in their cultural and historical context. The discussions of the films include a sampling of critical commentary by others, a list of cast and crew, a synopsis of the story, followed by Muir's review. Each film also includes a rating based upon a four-star system. The main thrust of volume wraps up with a Conclusion, but Muir doesn't end his volume there. It also includes several helpful appendices, including a list of conventions of the genre, a hall of fame with actors who "appeared in at least three science fiction films" from 1970-1979, movie tag-lines broken down by year that helps the reader walk down memory lane, a discussion of some of the "most de-humanizing rituals of 1970s dystopias," a chart that lists 1970s films and their more recent remakes or re-envisionings, and the author's choice of the ten best films of the decade.
Some may wonder why Muir would devote 454 pages to a discussion of 1970s horror and fantasy films. But knowledgeable film critics, fans, and culture watchers, know exactly why. The 1970s were a significant time period for genre film. Following on the heels of the 1960s counterculture, the 1970s represented a time in which the seeds of the previous decade germinated and bore fruit which matured and expressed itself in human experience. As a keen student of film and culture, Muir recognizes some of these significant signposts, and he shares them with readers in his Introduction. This includes various dystopias, post-apocalyptic, fears related to science that included medicine as well as robots and computers, conspiracy, and nature out of control. the 1970s also saw many films that focused on outer space, and fantasy was alive and well during this period, with the two coming together in 1977 with Star Wars.
Muir's analysis is always enjoyable, and he does a good job at teasing out elements that the viewer may not have seen in previous viewings. If a critique is to be offered it is a minor one. It involves an occasional disagreement over interpretation of elements of film. For example, in "Appendix D: The Five Most De-Humanizing Rituals of 1970s Dystopias," Logan's Run is listed as number 1 with its Carousel as the qualifying feature. Readers may recall that in this futuristic film hedonism is the order of the day as people live until 29 and attempt to achieve "renewal" once they reach their 30th birthday. Carousel is a ritual whereby individuals come dressed in robes and with masks and float into the air hoping to receive a new lease on life. In reality, no one is given renewal, and are instead the victims of state-run extermination in the interests of population control. Muir describes Carousel by saying that "it appears to be a joyous religious ritual," and just a little later that "it masquerades as a mystical, religious tradition." In my view the description of Carousel as religious in nature is inaccurate, unless secular civil religion is in view. But this is a minor interpretive disagreement, and an enjoyable one as the reader is able to reflect more critically on these important films from a previous generation through Muir's analysis.
I have had the privilege of working with Muir by providing guest commentary in his Horror Films of the 1990s. Whether reading his material or working collaboratively, Muir's writings are a pleasure to engage. Science Fiction and Fantasy Films of the 1970s is no exception, and it is highly recommended.