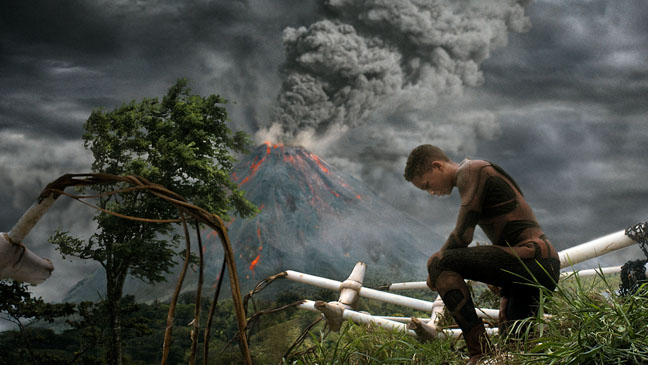 After Earth, the new science fiction film starring Will Smith and his son Jaden, has largely received negative reviews by critics, and it has not done well at the box office. But recent news items provide another dimension for consideration, and that is its possible incorporation of a religious dimension, and a controversial one at that, in the form of Scientology. Scientology is a Western esoteric religion was founded by the late science fiction writer L. Ron Hubbard, and has been the focus of much controversy over the years. It has also been successful in attracting a number of celebrities, including Tom Cruise, a close friend of the Smiths. According to a piece in The Hollywood Reporter, there may be other connections between Scientology and the Smith family:
..the New Village Leadership Academy, a school he co-founded in 2008 with wife Jada Pinkett-Smith, is staffed by a number of Scientologists and employs "Study Technology," a teaching methodology developed by Hubbard.
This article also notes the similarities in the film's iconography to Hubbard's religion including the concept of an "abandoned Earth," the dialogue, a prominent volcano, the shape of the spacecraft, and the costumes. There are also quotations from various reviewers who see elements of Scientology and Dianetics in the film.
Writing for Vulture, Matt Patches breaks down After Earth as nothing more than an elaborate homage to Scientology. The movie's villain is "emotion," for example, while the father character "audits" his son throughout the film. "The bulk of After Earth is essentially that [auditing] scene from The Master on a blockbuster scale," Patches argues.
The dots are also connected over at Religion News Service, where David Gibson provides his thoughts on the film in "Is Scientology unwatchable?"
If these reviewers are correct and elements of Hubbard's esoteric technology have influenced or been incorporated into the film, and if the it continues to generate little box office profit, then it may send two messages to Hollywood. First, no matter how Scientology is bound up in a film, whether more overtly as in John Travolta's Battlefield Earth, or in more subtle fashion as in After Earth, Scientology is best left to celebrity centers rather than celluloid. And second, the once bright shining star that was M. Night Shyamalan has now burnt out and left us with a black hole in directorial space.