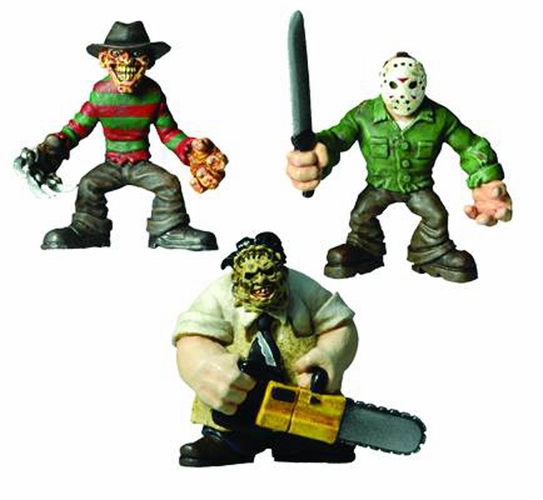 In a previous post I took part in a group effort from the League of Tana Tea Drinkers on the phenomenon of "cute" monsters in horror. In this series of posts the contributors tried to address why we take horrific items and produce less than frightening aspects of them for our enjoyment.
I would like to address this issue again by way of an essay by Ian Conrich titled "Seducing the Subject: Freddy Krueger, Popular Culture and the Nightmare on Elm Street Films," which appears in Trash Aesthetics: Popular Culture and its Audience, edited by Deborah Cartmell, I.Q. Hunter, Heidi Kaye and Imelda Whelehan (Pluto, 1997), pp.118-131. Concrich has been a guest at TheoFantastique previously to discuss the book he edited, Horror Zone. In the essay in Trash Aesthetics Concrich discusses the success and cultural impact of the Nightmare on Elm Street films. Conrich states that,
It is, however, not so much the success of the films that is surprising, but the fact that they featured a child killer as their protagonist. The Nightmare films depict the activities of Freddy Krueger, a child molester and murderer, who, having escaped conviction on a technicality, was burnt to death in his boiler room by Elm Street's vengeful parents.
After discussion of the narrative of the film and the shifting of Krueger between illusion and reality as he stalks his victims, Conrich considers how Krueger's seduction of not only his victims, but also his audience, is facilitated by the various products sold in connection with the films. This includes a wide range of items, from a clothing line to a fan club to toys (especially dolls and figurines of Freddy, as well as his razor glove) and even a few hardcore porn films which take off from the film series. Conrich also notes that much of the marketing of products is directed toward children.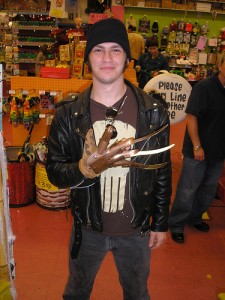 Conrich then tries to explain the mystifying appeal of merchandise depicting a murderer and child molester for young audiences, including children. He writes:
A child's desire to become Freddy could be explained by Gary Heba's suggestion that there exists in horror films "an ideological kinship of 'otherness' between youth and the monster". Elders have regarded youths as threatening and disruptive as a result of their pre-adult interests and appearance. Young people are consequently able to identify with the monstrous as "it, too, stands outside and apart from the members of dominant culture". Freddy, a monster with attitude and limitless power, makes subversion appear exciting.
There may be something of value in Conrich's thinking as he wrestles with understanding the cute side of horror. At the least it provides another clue as to the light side of our enjoyment of the dark side.
Related post:
"TheoFantastique Podcast 1:1 - Interview with Ian Concrich on Horror Zone"