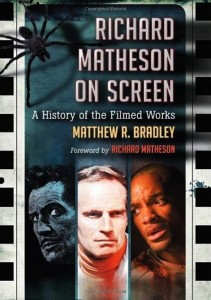 Richard Matheson is one of the most influential writers of horror, science fiction, and fantasy in our time. Many of his works have been translated to the silver and small screens, and Matthew R. Bradley describes this process in his great book Richard Matheson on Screen: A History of the Filmed Works (McFarland, 2010). Bradley is a widely published authority on the work of Richard Matheson. He has written articles, interviews, and reviews for Filmfax, Fangoria, Mystery Scene, VideoScope, The New York Review of Science Fiction, and Cinema Retro. He is the creator of the film-related blog Bradley on Film.
TheoFantastique: Matthew, thanks to you and McFarland for the review copy of your book. It is much appreciated, and it was a great read. In many ways it was a trip down memory lane for me as I read about Matheson's work in so many of the television programs and movies I grew up with as a kid and teenager, and continue to enjoy as an adult. How did you come to know Matheson, and how has your relationship given you a new appreciation for his work?
Matthew R. Bradley: I'd admired Matheson for many years before I first wrote to him in care of his agent, the late Don Congdon, and it wasn't long before I hit on the idea of an interview.  I felt very strongly about the contributions he and his friends and colleagues had made to the genre in film and television, in addition to their literary credentials, and wanted to get their stories down in their own words.  Through a contact at Filmfax, I got the opportunity to do interviews with a number of them, which I think helped earn Richard's respect and trust.  A few years later, Gauntlet published limited editions of several of his novels, and Richard did me the honor of inviting me to write introductions for them.  By the time Gauntlet asked me to edit Duel & The Distributor and co-edit The Richard Matheson Companion, I was already hard at work on Richard Matheson on Screen, but kept it a surprise for the first few years.  Being involved in all of these projects has certainly given me a greater appreciation for his diversity.
TheoFantastique: How significant is the work of Matheson in science fiction, fantasy, and horror, both in the past and as a continuing legacy in the present?
Matthew R. Bradley: Immeasurably.  He has been a direct inspiration to an entire generation of authors, filmmakers, and television writers such as Stephen King, George A. Romero, Chris Carter, and Joss Whedon; he has written some of the most influential works in genre history, such as I Am Legend; and his stories continue to be adapted for the screen more than half a century after he made his screenwriting debut with The Incredible Shrinking Man.
TheoFantastique: How did the group of writers Matheson was a part of influence and encourage each other? Here I'm thinking of Charles Beaumont, Ray Bradbury, Robert Bloch, and William F. Nolan.
Matthew R. Bradley: In so many ways.  In the early days, older members of the group such as Bradbury and Bloch would critique their work (sometimes quite publicly, as in the case of Bloch's article "The Art of Richard Matheson").  They socialized, talked shop, wrote for many of the same magazines, movie studios, and TV shows, and–as time went by–adapted one another's work for the screen and/or collaborated on scripts.  Matheson has spoken of his friendly competition with Beaumont, by which they published their respective first collections and mainstream novels, and plunged into film and television, each at around the same time.
TheoFantastique: Let's talk about some of Matheson's work as it was translated to the small and silver screens. The Incredible Shrinking Man remains an incredible science fiction film. How did Matheson conceive of the idea, and what does he think of the way in which it was translated into a motion picture?
Matthew R. Bradley: It was inspired by a scene from the comedy Let's Do It Again, in which Ray Milland puts on another character's hat and it comes way down over his ears.  Matheson wondered what would happen if someone did that with his own hat, and realized that he was shrinking.  As is often the case, he was disappointed with the film at first, especially because Universal insisted that it utilize a straightforward chronological stucture, whereas his original novel, The Shrinking Man, does not.  But the special effects obviously were and remain to this day impressive, and he recognized that the philosophical ending was very unusual for its time.
TheoFantastique: Matheson wrote a number of The Twilight Zone episodes. What are some of the more memorable in your estimation?
Matthew R. Bradley: Of course the omnipresence of "Nightmare at 20,000 Feet," perhaps the show's best-known episode, is inescapable; it was remade in the feature-film version and has been spoofed endlessly in various media.  One of my favorites marked William Shatner's only other Zone appearance:  "Nick of Time," in which he becomes obsessed with a fortune-telling machine in a small-town cafe.  The simplicity of the premise and the intensity of Shatner's performance make it a standout.  Another is "Steel," currently being remade as Real Steel with Hugh Jackman, in which Lee Marvin embodies the indomitability of the human spirit.
TheoFantastique: Matheson's creative hand has also been evident on the big screen, and in some of my favorite horror films. How did Matheson come to work with Roger Corman on House of Usher and Pit and the Pendulum?
Matthew R. Bradley: According to Corman, Matheson was hired by James H. Nicholson of American International Pictures, although both men were familiar with his previous work.  No plans for an Edgar Allan Poe series were envisioned at first, but when Usher was such a big success, they naturally followed it with Pit, Tales of Terror, and The Raven, to name the four written by Matheson.  (Typically, Beaumont worked on another three.)  Corman has frequently praised Matheson for the small amount of revision needed to his scripts, usually just trimming the dialogue.  Of course, as time went by, Matheson–who never likes to do the same thing for too long–couldn't take them seriously any longer, which led to increasing amounts of comedy and, after he left the Poe series, an even more overtly humorous film, The Comedy of Terrors.
TheoFantastique: The Devil Rides Out (The Devil's Bride in the U.S.) saw Matheson adapting Dennis Wheatley's novel into a screenplay. How did Matheson's collaboration with Wheatley and director Terence Fisher come to be one of the classic Hammer horror films, and one drawing upon the occult?
Matthew R. Bradley: I would agree with you that The Devil Rides Out was a high-water mark for Hammer, Matheson, Fisher, and star Christopher Lee.  As usual, Matheson was extremely faithful and respectful to his source material, but since it inevitably had to be condensed for the screen, he had the opportunity to pick up the pace and eliminate some of the digressions that involved various occult arcana.  Wheatley, in fact, was quite pleased with Matheson's script, which kept the story moving along at a better clip than Wheatley's somewhat discursive novel.  Add Lee in a rare heroic role, and Charles Gray as a formidable villain, and you've got a winner.
TheoFantastique: In my view one of the neglected great horror films is The Legend of Hell House. Does the storyline of the film involving a haunted house due to psychic phenomenon and a powerful disembodied entity reflect any of Matheson's personal beliefs to your knowledge, or is this just another example of his superbly dark sense of imagination?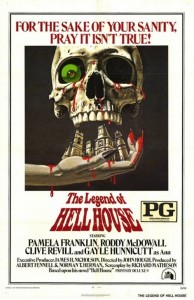 Matthew R. Bradley: Matheson has a lifelong interest in what he calls the "supernormal," and did extensive research in occult phenomena before writing his novel Hell House, which in part was inspired by his reaction to Shirley Jackson's The Haunting of Hill House.  Although he is an admirer of both the book and Robert Wise's superb screen version, The Haunting, he was somewhat dissatisfied by the fact that the audience never knows for sure if the ghosts were real or sprang from the Julie Harris character's imagination.  He wanted there to be no such ambiguity in his book, which was based in part on England's Borley Rectory.  Of course, the story and characters are his own, but all of the ghostly manifestations in the book and film were based on actual documented cases.  I think that both The Devil Rides Out and The Legend of Hell House benefit from presenting occult information to the audience in a serious, grown-up way, without talking down to the viewer or dragging in any superfluous elements.
TheoFantastique: Three versions of I Am Legend have been filmed. What is Matheson's opinion of the three very different versions in the form of The Last Man on Earth, The Omega Man, and I Am Legend?
Mathew R. Bradley: He has adopted a very pragmatic viewpoint.  Although disappointed with aspects of Last Man (e.g., the low-budget Italian locations; the arguable miscasting of Vincent Price; the rewrite of his script that led him to substitute his Logan Swanson pseudonym on the screenwriting credit), he is the first to admit that it is by far the most faithful version of his novel.  As for the other two, they strayed so far from the book that he barely regards them as adaptations, considering them as separate entities.  With regard to the Will Smith version, he admired some aspects of the production, but probably took greater satisfaction from the fact that in its movie tie-in edition, his 53-year-old novel became a New York Times bestseller…
TheoFantastique: Do you believe that Matheson will continue to serve as one of our most influential writers of the fantastic for future generations?
Matthew R. Bradley: I do.  As I've often pointed out, even though many people do not know his name, they are almost always familiar with some aspect of his work, and anyone whose creations are that pervasive is going to be read, watched, and influencing people for a long time to come.  Plus, he changed the rules in fundamental ways; he was, for example, one of the first to treat vampires as a scientific rather than a supernatural phenomenon, and Stephen King has often said how Matheson made him realize that horror didn't have to take place in a moldering crypt, but could happen in the supermarket next door.  This is a guy who has legs.
TheoFantastique: Mathew, thank you again for your fine book, and for the interview.