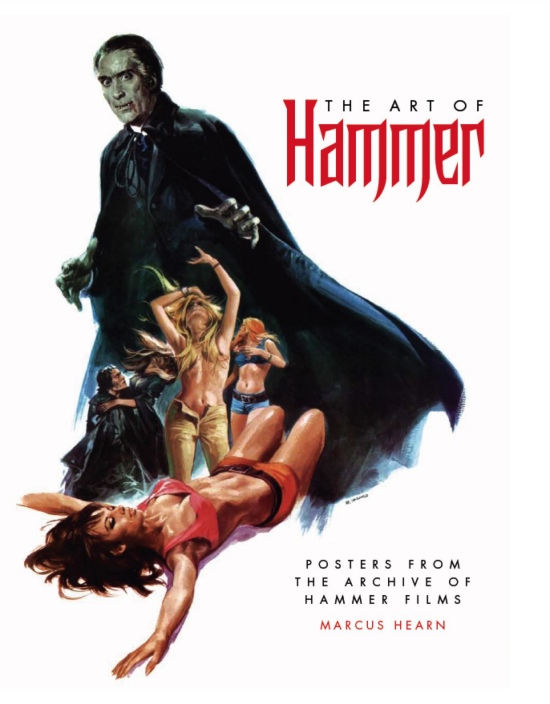 In the contemporary period films are marketed through the various media that intertwines with our lives on a daily basis. We watch trailers for forthcoming films in the theater, they are shown on television, and the Internet plays a major part in promoting films through websites and various social media. But before most of these things came on the scene it was the movie poster that served as a major vehicle for film promotion. Of course, today we still find movie posters, but these are primarily found on the exteriors of movie theaters and on the inside as well. In many ways, movie posters are a vanishing form and art.
I began my interest in the fantastic in the 1970s, and with this came the beginnings of my movie memorabilia collection. Movie posters were an important part of this. This love for movie posters has continued into my adulthood, and for this reason I was pleased to discover The Art of Hammer: Posters From the Archive of Hammer Films (Titan Books, 2010) by Marcus Hearns. As the title indicates, this volume is a collection of poster artwork from Hammer Studios. Hearns describes the book:
The Art of Hammer is intended neither as a guide to rarity nor as an exhaustive catalogue. It does, however, offer examples from some of the most inventive and controversial marketing campaigns in post-war film history. and it celebrates the largely lost art of the painted film poster with some of the finest examples of their type. These are items that were considered entirely disposable once a film's run had ended, but which are now fought over in the world's most prestigious auction houses.
The book also includes an Introduction by Hearns, and explanatory notes at many points that provide additional information on the posters and the films. This book is a wonderful companion piece to The Hammer Story (Titan Books, 2007) also by Hearns and co-authored with Alan Barnes.
If you want to explore a vanishing form of cinematic art, this is the book for you. As Hearns writes in the Introduction while quoting from the poster for Creatures the World Forgot, "They don't make them like this anymore."