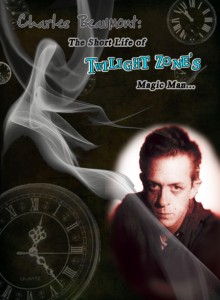 Not long ago I was given the opportunity by JaSunni Productions to watch a review/screener copy of the new documentary Charles Beaumont: The Short Life of Twilight Zone's Magic Man. The film tells the story of Beaumont who was a part of an elite group of science fiction writers that helped put the genre on the map, and who made possible the plethora of science fiction stories, books, television programs, and films fans often take for granted. This documentary describes the life of a brilliant and gifted writer who, like many of his contemporaries and colleagues, including Ray Bradbury, Richard Matheson, Harlan Ellison, and Robert Bloch, struggled initially to survive financially as a writer, but who persevered until receiving due recognition. For Beaumont his first break came through the publication of one of his stories in Playboy magazine. He would later go on to write for television and film including some of the best known and loved Twilight Zone episodes (writing 22 in all), The Alfred Hitchcock Hour and Alfred Hitchcock Presents, One Step Beyond, Thriller, Roger Corman's adaptations of Poe's Masque of the Red Death and Premature Burial, Burn, Witch Burn!, and 7 Faces of Dr. Lao among many others. A listing can be found at the Internet Movie Dabase.
Sadly, Beaumont's life was cut tragically short at the age of 38 by a mysterious illness. Friends in the documentary speculate that this may have been due to a combination of factors, beginning with his childhood spinal meningitis, which may have led to a combination of early onset Alzheimer's and Pick's Disease as an adult.
I found the documentary informative, and obviously a labor of love not only for those associated with JaSunni Productions, but also for Beaumont's friends and colleagues who reflect fondly on his talent. On the downside, and I can comment self-critically here as a fellow documentary format video producer, this documentary suffers visually from a lack of a unified or coordinated background for the various interviews, and the sound quality varies, at times being very difficult to hear which can provide an unfortunate distraction from the content. In addition, my review copy had some video problems as well, a situation that I hope will be rectified as the film is released.
You can order a copy of Charles Beaumont: The Short Life of Twilight Zone's Magic Man at the JaSunni Productions website.