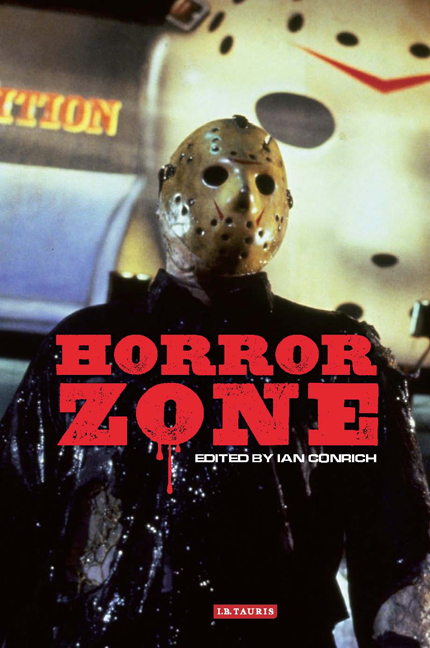 It was my privilege to read select chapters from the new book Horror Zone: The Cultural Experience of Contemporary Horror Cinema (I. B. Tauris, 2010), edited by Ian Conrich. It was an enjoyable read, not only because the contributors are well informed about their subject matter, but also because of the refreshingly different perspective contributors bring to horror in terms of placing horror cinema in its broader cultural context.
I recently interviewed Ian Conrich who discussed the book. Conrich is a Fellow in the Department of Literature, Film and Theater at the University of Essex. His books include The Cinema of John Carpenter: The Technique of Terror (2004), Film's Musical Moments (2006), and Contemporary New Zealand Cinema (I.B. Tauris, 2008). The interview is available in the first podcast for this website, TheoFantastique Podcast 1:1 which can be downloaded here.
A synopsis of Horror Zone:
In his landmark Introduction to the American Horror Film, Robin Wood noted that horror "has consistently been one of the most popular and, at the same time, the most disreputable of Hollywood genres." Horror is still immensely popular but its assimilation into our culture continues apace. In Horror Zone, leading international writers on horror take horror out into the world beyond cinema screens to explore the interconnections between the films and modern media and entertainment industries, economies and production practices, cultural and political forums, spectators and fans. They  critically examine the ways in which the horror genre functions in all its multifarious forms, for example the Friday the 13th films as modern grand guignol, the relationship between the contemporary horror film and the theme park ride, horror as art house cinema, connections between pornography and the horror film and the place of special effects in this most respectable of Hollywood genres.
Table of Contents
List of Illustrations vii
Acknowledgments ix
Introduction – Ian Conrich 1
Part 1 Industry, Technology and the New Media
1 Dark Rides, Hybrid Machines and the Horror Experience – Angela Ndalianis 11
2 High Concept Thrills and Chills: The Horror Blockbuster – Stacey Abbott 27
3 Bringing It All Back Home: Horror Cinema and Video Culture – Linda Badley 45
Part 2 Audiences, Fans and Consumption
4 Stalking the Web: Celebration, Chat and Horror Film Marketing on the Internet – Brigid Cherry 67
5 Attending Horror Film Festivals and Conventions: Liveness, Subcultural Capital and 'Flesh-and-Blood Genre Communities' – Matt Hills 87
6 'Trashing' the Academy: Taste, Excess and an Emerging Politics of Cinematic Style – Jeffrey Sconce 103
Part 3 Manufacture and Design
7 Culture Wars: Some New Trends in Art Horror – Joan Hawkins 125
8 Making Up Monsters: Set and Costume Design in Horror Films – Tamao Nakahara 139
9 They're Here!: Special Effects in Horror Cinema of the 1970s and 1980s – Ernest Matbijs 153
10 The Friday the 13th Films and the Cultural Function of a Modern Grand Guignol – Ian Conrich 173
Part 4 Boundaries of Horror
11 'Parts is Parts': Pornography, Splatter Films and the Politics of Corporeal Disintegration – Jay McRoy 191
12 Nazi Horrors: History, Myth, Sexploitation – Julian Petley 205
13 Better the Devil You Know: Antichrists at the Millennium – Mick Broderick 227
14 Feminine Boundaries: Adolescence, Witchcraft and the Supernatural in New Gothic Cinema and Television – Estella Tincknell 245
15 Impaired Visions: The Cultural and Cinematic Politics of Blindness in the Horror Film – Angela Marie Smith 259
List of Contributors 277
Index 283