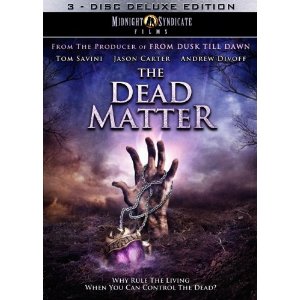 In my view Midnight Syndicate is one of the leaders, if not the leader in Halloween and horror music. They have proven so again with the release of their latest albums, and have raised the bar with the accompanying release of their first movie in a three-disc set as FearNet and Rue Morgue Radio recently noted, and with good reason. Ed Douglas of Midnight Syndicate has made some time to discuss this great project.
TheoFantastique: You recently set up a deal with Hot Topic stores for a release of your DEAD MATTER DVD. This seems like a perfect partnership. How did this come about, and what can people anticipate on this DVD?
Ed Douglas: Midnight Syndicate has been working with Hot Topic for the past eleven years so they were the perfect retail partner to team up with on The Dead Matter DVD. The cool thing is that Hot Topic is going to be selling a deluxe 3-disc set of The Dead Matter at all of their stores for the price of a regular DVD (for a limited time). This 3-disc set includes the DVD, the soundtrack CD from Midnight Syndicate, and a 13th Anniversary Midnight Syndicate greatest hits type CD called "Halloween Music Collection."
As far as extras go, we've really loaded the DVD up pretty well. Not only do you have the requisite gag reels and commentary with the director and producers but we've also added two Midnight Syndicate music videos and Eternal Legacy's "The Dead Matter" music video. We are also featuring the three finalists from the Midnight Syndicate Video Contest we ran earlier this year - some really creative home-grown short films set to our music. Lastly we have this cool feature called Maximum Dead Matter. It's a feature-length behind-the-scenes program. You watch the movie in one window while in other windows you see footage of us filming those scenes, interviews, location trivia, concept art, and stuff like that. I think it's really interesting for fellow filmmakers and enthusiasts who are interested in seeing exactly how we made our little indie horror film. We have a 0:40 second trailer from Maximum Dead Matter on YouTube if you'd like to see what I'm talking about.
TheoFantastique: You also produced a horror film, The Dead Matter. What is the story behind this, and how can fans catch clips if not a copy of the whole film?
Ed Douglas: Before I started Midnight Syndicate, I made an earlier version of The Dead Matter movie for about $2000. The goal of me and my partners was to get the experience and put ourselves in a position to remake the movie someday with an actual budget. After we released the original version I started Midnight Syndicate. As Midnight Syndicate grew in popularity with the haunted houses, gothic music fans, roleplaying gamer, and Halloween folks we began to get approached by a lot of indie filmmakers, TV producers, and game companies looking to license our music in their productions. It culminated in 2006, when Robert Kurtzman moved to Ohio (near to me) and approached us to score his film, The Rage. When I visited the set of The Rage and saw how Bob and his producing partner Gary Jones ran their sets, I knew they would be the perfect partners for The Dead Matter remake I had envisioned ten years earlier. I pitched the idea to Bob, he enjoyed the script and the rest is history.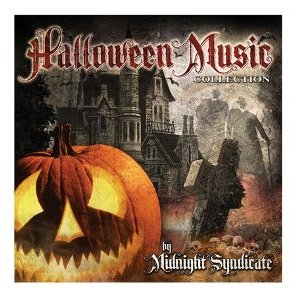 The Dead Matter tells the story of a grief-stricken young woman who is desperate to contact her deceased brother. She comes into possession of an ancient relic that can raise and control "dead matter." Her dark obsession leads her down a nasty path which includes two warring vampires (Andrew Divoff and Tom Savini) that want the relic and a vampire hunter (Jason Carter) who wants to destroy it. Classic horror themes with some modern twists and a touch of humor. It's a fun movie.
Hot Topic stores will have The Dead Matter DVD this Friday, July 30th. Until then you can catch the trailer at www.TheDeadMatter.com. On the 30th you will also be able to order the DVD online through the Midnight Syndicate website (www.MidnightSyndicate.com), Amazon, and Hot Topic.
TheoFantastique: I was pleased to learn recently about your first music video. What was the inspiration for a move from producing quality horror and Halloween music to creating a video to accompany it?
Ed Douglas: We wanted to do something special to celebrate Midnight Syndicate's 13th Anniversary. We had ten CDs out but never a music video and we thought it was about time we did. My friend David "House" Greathouse (who did special FX makeup on our movie, and recently released a documentary entitled, Legion of Terror) was the perfect director for the project. He's done a lot of great music videos for the heavy metal band Mushroomhead and really understands the Midnight Syndicate mythos. He really delivered a great visual treat.
TheoFantastique: Are there any plans to perhaps take the musical performance live on the road, like a Halloween version of Manheim Steamroller? And what about the possibility of creating dramatic stories combined with music and sound effects in connection with horror and Halloween like a generation of us listened to as we grew up in previous generations?
Ed Douglas: Yes we are talking seriously about doing that in early 2011 and might even have some announcements regarding that soon. The old radio dramas were a big part of my inspiration for Midnight Syndicate (the integration of sounds and soundscape with the music). I'd definitely like to explore something like what you are talking about. To close your eyes and be taken away to a world in your own imagination - that's what we're all about.
TheoFantastique: Ed, your new release is great, and a perfect way for fans of horror and Halloween to get into the spirit early. Thanks again for letting us know about the new release and for giving us an insider's view.