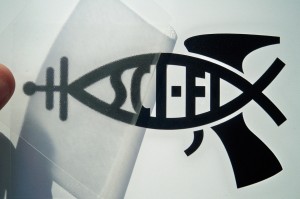 The science fiction website i09, recently included an article titled "Christian readers demand more science fiction. Why won't Christian publishers listen?". With this post I'd like to suggest some answers.
This article, by Charlie Jane Anders, introduces the subject matter with reference to three separate articles, the first by StephanieP, a Catholic, who argues in keeping with the title of her article that "Science fiction goes with the Christian life." But if this is the case then why can't more science fiction titles be found in Christian bookstores? Two other articles attempt to answer this question, both by Mike Duran, including his thoughts at Novel Journey as well as his personal blog.
In my supplement to their thoughts and this ongoing discussion we must first consider that science fiction is indeed "under represented" if not largely absent in the Christian subculture. This was driven home most dramatically for me in an article by James Herrick in Christianity Today magazine, arguable the flagship periodical for Protestant evangelicalism. The article was titled "Sci-Fi's Brave New World," which is largely a summary of Herrick's book Scientific Mythologies (InterVarsity Press, 2008). The article, like the book, rightly recognizes the mythic significance of science fiction in Western culture today, but takes an unfortunately defensive posture for Christianity in response. As a result, Herrick misses the opportunity to have a deeper appreciation of the significance of myth and science fiction (as well as the related genres of fantasy and horror).
But why this reaction against science fiction? Several possibilities are possible. In 2007 Publishers Weekly commented on this subject stating:
"While mainstream fantasy and science fiction fill shelves in general-interest bookstores, the genre has yet to really take off in the Christian market industry…Suspicion of the books as too dark or occult, combined with a primary demographic that isn't drawn to the edgy—white, evangelical American women of childbearing-to-empty-nest ages—make the books less than attractive to many Christian publishers and booksellers..."
I think PW recognizes the dynamics at work. At heart is a fear of foreign worldviews that are incompatible with Christianity, an emphasis of Herrick in his CT article mentioned above. But perhaps of more concern for many evangelicals is the alleged influence of "the occult" or Western esotericism. Fear of this element is even more blatant in evangelical concerns over fantasy and horror in popular culture. If we recall the flap over alleged Witchcraft in the Harry Potter books and films, and the current concern in some evangelical quarters over the alleged "Darkness of Twilight," then we get a feel for the almost palpable evil and fear of spiritual contamination that evangelicals have for the fantastic in popular culture. These fears prevalent in the subculture account for the lack of science fiction in Christian circles to satisfy the small number of sci-fi enthusiasts, surely an aberrational comunity in the evangelical movement.
It will come as no surprise to my regular readers that I find such views troubling. In my opinion they result not only out of fear, but also as a result of a stunted theological imagination all too frequently found among evangelicals in regards to speculative fiction in literature, television, and film. C. S. Lewis and J. R. R. Tolkien are evangelical heroes of science fiction and fantasy, but few are willing to go where they went in drawing upon aspects of "pagan" cultures in order to tell tales that capture the imagination and provide windows into transcendence. Surely this negative stance toward the fantastic will not inspire the next generation of Inklings to engage the West in its current journey toward re-enchantment.