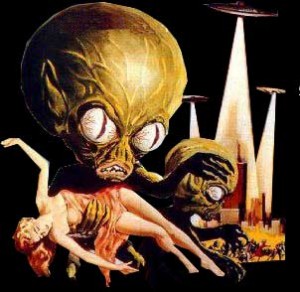 Over the decades science fiction and horror have alternated in their depiction of alien visitation between concepts of invasion and attack on the one hand, and the benign or loving, at times divine sage on the other hand. Some filmmakers have even wrestled with both treatments, such as Steven Spielberg, who for many years presented his aliens in positive fashion in films like Close Encounters of the Third Kind and E.T., shifting gears dramatically and reluctantly (in a post 9/11 environment) with The War of the Worlds.
Now, noted theoretical physicist and sci-fi fan Stephen Hawking has weighed in with his views on real alien contact in an Associated Press report:
Hawking claims in a new documentary that intelligent alien lifeforms almost certainly exist, but warns that communicating with them could be "too risky."

He speculates most extraterrestrial life will be similar to microbes, or small animals -- but adds advanced lifeforms may be "nomads, looking to conquer and colonize."
The comments came in connection with the Into the Universe with Stephen Hawking series on the Discovery Channel. It sounds as if Hawking agrees with H. G. Wells in that future visiting aliens may be "intellects vast and cool and unsympathetic." See the news item as printed in The Detroit News, and a more extensive article here. And for a contrary perspective on the topic, consider this article.
Update: Michael Shermer has written a piece for the Scientific American titled "The Myth of the Evil Alien" disagreeing with Hawking.