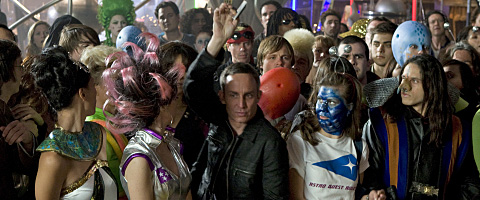 Last night's episode of CSI: Crime Scene Investigation titled "A Space Oddity," provided another example of why it is one of the best programs on television, and why CSI is the best of the three programs in the CSI franchise. Unlike CSI: Miami and CSI: New York, CSI incorporates a spectrum of approaches to crime drama, which often includes human and the willingness to engage aspects of popular culture. Last night's episode included all of these elements as the crime took place within the context of an Astro Quest fan convention, a parody of the classic Star Trek television series and its many conventions.
The storyline involves a lab tech at a convention who accidentally runs into another lab tech, one he has had a crush on for some time, who unknown to him, is also an Astro Quest fan. As they begin to explore their mutual fandom, a movie producer is found murdered, with fingers pointing in multiple directions around convention attendees and those associated with a forthcoming Astro Quest film.
As the storyline develops tongues are planted firmly in cheek as the crime scene investigators make fun of the convention's attendees and Astro Quest fans. Two of the fans that are suspects are portrayed in stereotypical fashion as nerdy types still living at home well into their thirties and living 24/7/365 as if the world of Astro Quest was real and as their lives full inhabit this mythic domain.
Some of the more entertaining aspects of this episode were the daydream sequences in which the lab tech imagines himself living out his romantic inclinations toward his fellow lab tech, and which take place within the realm of Astro Tech episodes. These daydream sequences mirror episodes of the original Star Trek, specifically "The Menagerie," with the scenes of Captain Christopher Pike enamored by a dancing Orion slave woman, and especially "The Gamesters of Triskelion," with Captain Kirk once again utilizing his romantic charm to woo an alien woman named Shahna.
Although this episode did take its jabs at Star Trek and its legion of fans of varying levels of devotion, it also recognized the significance of the program and its existence as a social phenomenon. One of the characters was an academic conducting a research project on the significance of the program's mythology for its fans, even recognizing that for some it functions as a religion. This mirrors academic studies of Star Trek, and some of the academic research which has noted that Star Trek conventions can be viewed for some as a form of sacred pilgrimage, and in other studies that Star Trek provides the mythological inspiration for forms of hyper-real spiritual devotion.
If you are a fan of Star Trek, and even better, a fan of CSI as well, I encourage you to watch this episode online. It is an entertaining piece that combines both satire and homage for a classic science fiction television program.
Related posts:
"Merticus Interview: Media's Depiction of Vampires - CSI: Las Vegas "Blood Moon"
"Star Trek Conventions as Sacred Pilgrimage"
"Adam Possamai: Jediism, Matrixism, and 'Hyper-Real' Spiritualities"