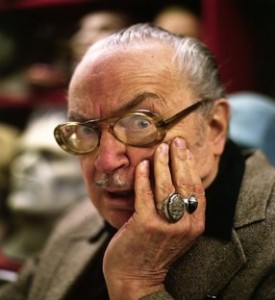 The horror subculture and decades of monster kids mourn as news of the passing of Forrest J. Ackerman circulates in the media. As his legion of fans, old and young, are keenly aware, Forry was extremely influential in the rise of the horror subculture, and in the production of specialized magazines devoted to it, through his own Famous Monsters magazine. His influence has been noted by many famous and not so famous people, as recognized in The Sci-Fi Boys documentary produced by Paul Davids.
The Los Angeles Times online discussed Forry's passing with the following:
Forrest J Ackerman, who influenced a generation of young horror movie fans with Famous Monsters of Filmland magazine and spent a lifetime amassing what has been called the world's largest personal collection of science fiction and fantasy memorabilia, has died. He was 92.

Ackerman, a writer, editor and literary agent who has been credited with coining the term "sci-fi" in the 1950s, died Thursday of heart failure at his home in Los Angeles, Kevin Burns, head of Prometheus Entertainment and a trustee of Ackerman's estate, told the Associated Press.

As editor of Famous Monsters of Filmland, Ackerman wrote most of the articles in the photo-laden magazine launched in 1958 as a forum for past and present horror films.

"It was the first movie monster magazine," Tony Timpone, editor of Fangoria, a horror movie magazine founded in 1979, told The Times in 2002.

Timpone, who began reading Famous Monsters as a young boy in the early '70s, remembers it as "a black-and-white magazine with cheap paper but great painted [color] covers. It really turned people on to the magic of horror movies."

Primarily targeted to late pre-adolescents and young teenagers, Famous Monsters of Filmland featured synopses of horror films, interviews with actors such as Boris Karloff, Bela Lugosi and Vincent Price, and articles on makeup and special effects.

Famous Monsters reflected Ackerman's penchant for puns, with features such as "The Printed Weird" and "Fang Mail." Ackerman referred to himself as Dr. Acula.

"He put a lot of his personality into the magazine," said Timpone, who later became friends with Ackerman. "It was a pretty juvenile approach to genre journalism, but as kids, that's all we had."
You can read the entire obituary
here
. 
Uncle Forry, thanks for helping fuel my fears, spark my imagination, make my childhood, and create the lifelong monster kid I have become.