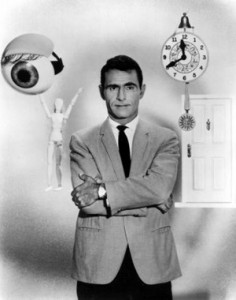 The discussion list for the Popular Culture and American Culture Associations included an item recently of interest to TheoFantastique. Ithica College is hosting a Rod Serling conference in October 2009. As the college event's website describes the event:
Picture, if you will, a place where communication students can study the creative work of one of the most prolific writers in television history – not from textbooks – but from the actual scripts he crafted. In the Rod Serling Archives at Ithaca College can be found one the most unique and complete collections of work by a writer whose name is synonymous with the "golden age of television." It's the material from which Emmy-award winning programs are made -- like Patterns... Requiem for a Heavyweight... and The Comedian and the series that gave birth to the modern "TV marathon" – The Twilight Zone. Rod Serling taught at the Ithaca College Communications School from 1967 to 1975.

Why Ithaca College? Just 50 miles south is Serling's hometown (Binghamton), and much closer is the family cottage on Cayuga Lake where ­ in an airstream trailer behind the main house - some of the most memorable scripts in television history were crafted. Then, there is the fact that in the early 1970's, writer became teacher - and shared his creative genius with students at the College... and that after his death in 1975 Carol Serling (a longtime Ithaca College Board member) decided her husband's work needed a permanent home where it could be preserved and shared.
The 2009 conference will be held October 2-3. The call for papers may be found here.
Related to Serling and his work on The Twilight Zone, readers may recall TheoFantastique's previous interview with Marc Scott Zicree, author of The Twilight Zone Companion (Silman-James Press, 1989).