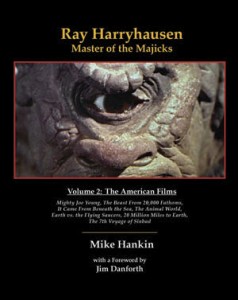 I recently became aware of a new and extensive book on the work of Ray Harryhausen that will be published this coming weekend. The book is coming out as part of a three-volume series called Ray Harryhausen - Master of the Majicks. It is authored by Mike Hankin and published by Archive Editions and Ernest Farino. Both Mike and Ernest have carved time out of their busy book promotion schedules to talk about this great new work.
TheoFantastique: Mike, thanks for your willingness to discuss this book. You bring not only an appreciation for Ray's work as a fan to this new book project, but also a long friendship. Can you sketch for us when you first caught the "Harryhausen bug," how you and Ray came to be acquainted, and how your relationship coalesced into Ray Harryhausen - Master of the Majicks?
 
Mike Hankin: The first Harryhausen film I saw was Mysterious Island, released in the UK in the summer of 1962. I had seen the upcoming trailers and was so keen to see the film that I was at the cinema for the very first showing at 1 p.m., and didn't come out until the last showing finished at 11 p.m. I was only thirteen years old and, as you can imagine, by the time I got home my parents were going mad with worry. Despite a severe telling off, I went back to see the film the following day and saw it at least twice each day until the end of its run. It is still my favourite Harryhausen film.
I first met Ray at a film convention in London, where he was giving a lecture. I wanted to interview him for a project I was working on, and through a friend got introduced, then invited to his home in London. I discovered we had so many interests in common, including film music and Laurel and Hardy. I arranged for Ray to become an honorary member of the the Sons of the Desert (the Laurel and Hardy Appreciation Society), and we exchanged film soundtracks.
From then on I became a regular visitor to Ray's home, and got involved with several projects connected to his work. In casual chats I was learning so much about his films, much more than he had mentioned in any interviews. I constantly tried to persuade him to write a full autobiography, but he always said he had other things he would rather do. Eventually, I plucked up the courage to ask if he would let me write a biography. He just said "Go ahead."
Shortly after I spent two days at his home, just looking through the bound scrapbooks he keeps on each of his films. These contain the script, storyboards, pre-production and production stills, reviews, clippings and much more. I was in seventh heaven. That was in 1986.
So many people have remarked, how can you spent so long on one project. All I can say is that I was having so much fun. I have travelled thousands of miles, written hundreds of letters, made numerous phone calls and traded countless emails, meeting so many wonderful people along the way. First and foremost I am a fan of Ray Harryhausen. I admire his many skills, how his mind works, I wanted to find out every minor detail about his career, and Ernie is the same. The whole enterprise has been so rewarding. During the time I was putting this all together I have chaired a lecture with Ray at a film festival; I have sat with him during a so-called sweat-box session for a new film project at an animation studio in England; I sat between Ray and Ray Bradbury at the pre-Star on the Hollywood Walk of Fame dinner, and had Ray Bradbury say to me, "It's good to sit next to a fellow author". Can you imagine what that was like for a Harryhausen fan! Yes, I would be in cloud cuckoo land to believe for one moment what the great Ray Bradbury said to me, but it not only sent a shiver down my spine, but I also had a smile on my face continuously for the rest of the trip.
TheoFantastique: I remember as a young Harryhausen fan in the 1970s how difficult it was to find books on Ray and his films, and many times sci fi and monster magazine articles and interviews had to suffice. Now we have several good works that are available. What makes this new work stand out as a unique contribution to works that discuss Ray's work and legacy?
 
Mike Hankin: Without doubt it is the interviews I conducted with so many people. I had great chats with Diana and Vanessa Harryhausen, when Ray was sent out of the room. Ray put me in contact with many people, such as Ray Bradbury, Wilkie Cooper and Beverley Cross. Other people took a little more tracking down, such as Michael Craig in Australia, John Cairney in New Zealand, Enzo Musumeci-Greco and Ferinando Poggi in Italy, as well as people such as model builder Arthur Hayward, film editor Jenny Holt, who were no longer involved in the film industry and Roy Field, who finally answered so many questions I had on the fate of the superior Sodium Light Travelling Matte system. Actor Tim Pigott Smith told me what it was like to be directed by Ray during the scorpion fight in Clash of the Titans (he was actually telling me the story in a busy restaurant, which suddenly became quiet as everyone listened). Each person, actors, directors, writers, cinematographers, technicians, friends, each had a story to tell, many who had never been asked before, and sadly many are no longer with us, which makes this record all the more important. Another important point is that time plays havoc with your memory, so we always checked, then checked again whatever we were told. We never took stories we heard about Ray as fact, we questioned everything.
TheoFantastique: Master of the Majicks will be released in three volumes with the first release, Volume 2, coming out on Sunday, September 14. Why three volumes, and why is the second volume going to be released first?
 
Mike Hankin: The book was very different when it was originally going to be published by another company in the early 1990s. Since Ernie Farino became involved, the book has expanded so much that it would have meant drastic cutting to get everything into a single volume, which neither Ernie or myself wanted to do. We decided to split the book into three volumes, covering the early years; Ray's first venture in feature films to his last film made in America; then finally the films he made when he moved to England and beyond. There were many people who read through the manuscript and learnt so much in the early chapters, but couldn't wait to get to the feature films. These are the films that they grew up with and wanted to read about. So, we thought start with the big story, then go back to the beginning. Well, Star Wars did it, so why not us.
 
TheoFantastique: What are some of the facets of this three-volume series that in your view will make it an important contribution to the library of Harryhausen fans, as well as fans of fantasy films and special effects wizards?
Mike Hankin: I believe it is the coverage of everything Harryhausen, his whole creative process, his influence on others in the industry and also other fields, which is really quite amazing. It will also compliment Ray's own book, by adding details to stories that he may have only briefly mentioned, such as the fate of the models and equipment he used. Whenever a film process is mentioned, we have gone to great pains to explain how and why it works. It will also be a source of information for the collector, with numerous images of posters, magazine covers, lobby stills from around the world, plus all other materials connected to the films. We haven't forgotten things such as contemporary reviews, budgets, music, promotions and scores of other items that are sometimes neglected. 
TheoFantastique: I understand that your book will include new photos and other visual materials. Can you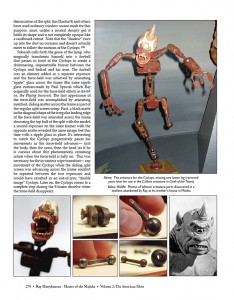 comment on what we might anticipate? Mike Hankin: Ray gave me many stills before he began writing his own book when, for obvious reasons, that particular source came to an end. Many of the people I interviewed loaned me stills from their private collections. Then Ernie got to work, contacting many collectors and archives, finding the material that few people had seen before. Many of these images would often throw up new questions that we set about answering. For instance, in volume two there images from an outtake reel featuring unused animation cuts from The Beast From 20,000 Fathoms and It Came From Beneath the Sea. Ray explains why these weren't used. 
TheoFantastique: How did you come to be associated with Archive Editions as the publisher for this book series? 
Mike Hankin: When I was with my original publisher I contacted Ernie Farino and Sam Calvin for information about the creation of the Harryhausen fanzine FXRH. Ernie kindly loaned me a stack of stills covering Ray's early experiments. When my publisher went out of business I wrote to Ernie asking if I could hang on to the stills while I searched for another publisher. Ernie had just set up Archive Editions and was planning to do a Best of FXRH as his first project, but came in with an offer to do my book instead. I knew straight away that Ernie would bring to the project much more than any other publisher, and I haven't been proved wrong. He laid down his plans, targeted the areas he thought could be improved and set me a whole lot of extra work, but it has been worth it. It has been a bit of a roller-coaster ride over the last few years, just financing this huge enterprise, yet here it is, the best possible way of expressing our gratitude for Ray's choice of career.
TheoFantastique: Ernie, let's get your perspective on this project as the publisher through your Archive Editions. Let me ask you a question similar to one I asked Mike. I remember many years ago that it was difficult to find books on Ray, but I managed to go through rare and used book dealers to find copies of From the Land Beyond Beyond, and later Film Fantasy Scrapbook. Now we have several good books out, including a few contributed to by Ray himself. What was it about this book project that made you want to get involved in seeing it published?
Ernest Farino: As Mike mentioned, I was the co-creator of the Ray Harryhausen fanzine FXRH, four issues of which were published from 1971 to 1974. Like many people, Ray's work inspired my interest in animation and visual effects and the magazine was a great way to combine that interest with my interest in graphic design. Later, my work in animation escalated into a professional career and I worked on numerous films and television projects, some involving stop motion.In 1994 I was in Prague as Visual Effects Supervisor on a film called Snow White in the Black Forest starring Sigourney Weaver, and I first started to contemplate getting back into publishing. Ever-improving computer technology was clearly starting to make this idea a viable possibility in terms of page layout software, photo treatment, and so on.
I began to consider ideas for projects, but it wasn't until 1997 that Mike Hankin contacted me (ironically, I was once again out of the country working on a mini-series in Australia). The original publisher for Master of the Majicks had dropped out and Mike was letting me know that material I had previously contributed from my own collection was still safe and sound. That jump-started my thinking that this might be the perfect project to embark on this new enterprise, and Mike and I soon made a deal to do the book.What followed was an involved process that saw the evolution and development of the book itself running parallel to my setting up my business, acquiring hardware and software, and many other details.
Having said all that, the subject matter really made the difference, of course. I don't think I would have had as much drive and interest along these lines had the book been about something else. But here, the perfect subject came together at the right time.
TheoFantastique: Given your long association with Ray and familiarity with his work, was there anything in this book series that took you by pleasant surprise?
Ernest Farino: There's no single event or discovery that stands out, but, rather, an ongoing series of discoveries and revelations in terms of photographic material and the kind of information that only comes from focused research. It was great to have the platform for pursuing historical and technical details related to Ray's films and in some cases, other films from the period that relate to Ray's work. Mike has been able to contact any number of people who worked on Ray's films, such as all three "Sinbad" directors: Nathan Juran (The 7th Voyage of Sinbad) and Gordon Hessler (The Golden Voyage of Sinbad) and Sam Wanamaker (Sinbad and the Eye of the Tiger), actors like Kerwin Mathews (The 7th Voyage of Sinbad) and Paul Christian (The Beast from 20,000 Fathoms), and various technicians who worked on the miniatures and opticals on Ray's films. Many stories and details have come to light that I don't believe have ever been explored in the past.
One interesting example came from another bit of serendipity or coincidence. In the early 1990s I directed a one-act play in Los Angeles, a very funny comedy called Dub. The play was written by Henry Slesar, who lived on the east coast, and I had occasion to speak to Slesar a couple of times about the play. His name sounded familiar to me, but I thought it was just from some TV shows he'd written, such as classic episodes of The Twilight Zone and Alfred Hitchcock Presents. It wasn't until a few years later when working on the Harryhausen book that I finally made the connection: Henry Slesar had written the Amazing Stories "novelization" of Harryhausen's film 20 Million Miles to Earth, which was later serialized in Famous Monster of Filmland magazine. I immediately got back in touch with him; Slesar remembered me from the play and kindly wrote a nice recollection of his experience writing the novelization of 20 Million back in 1957. This story is new and exclusive to the book and, since Slesar passed away a couple of years after that, something I'm all the more pleased to include "for the record."
TheoFantastique: How do you see this new book as a "must have" for serious Harryhausen fans?
Ernest Farino: One thing I realized right from the start was that, unlike Ray's own books, including Film Fantasy Scrapbook from the 1970s, we were going to be able to provide a much broader perspective to the making of these films. Ray's books are memoirs from his own perspective, which is perfectly valid, but we've been able to enhance and elaborate on many of the details of the history and techniques behind the films. So I think this 3-volume set is not only a legitimate companion to Ray's books but a research source that goes much farther as a comprehensive overview.
We've also structured the chapters much like the actual making of the films themselves. Each chapter starts with the initial concept or idea behind the film, then the development of the script and pre-production, then filming of the movie, the post production animation and visual effects, and finally wrapping up with the advertising, publicity and release of the completed film. So one can get a feeling for the natural, chronological process that went into making the films.
TheoFantastique: Mike and Ernie, thanks again for sharing about this book. I hope it will become a cherished part of the collection of Harryhausen fans around the world. Readers can click here for more information, a preview, and to place orders.