About TheoFantastique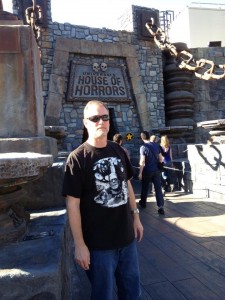 "The fantastic is the only tool we have nowadays to explain spirituality to a generation that refuses to believe in dogma or religion. Superhero movies create a kind of mythology. Creature movies, horror movies, create at least a belief in something beyond." - Guillermo del Toro, interview in USA Today
"The pagan and the paranormal have colonized the twilight zones of pop media." - Erik Davies, Techgnosis
Welcome to TheoFantastique. My name is John Morehead. I am the creator of this website which represents the result of a lifelong interest in the fantastic from my childhood in the 1960s, teens in the 1970s, and my continuing enjoyment and exploration of such things as an adult into the 21st century. This interest was first sparked by my childhood viewing of The Creature from the Black Lagoon, then nurtured by 1950s sci fi/horror films, further developed by the fantasy films of Ray Harryhausen, and then the Universal and Hammer Films of horror through my local Creature Features host, Bob Wilkins, in northern California. My interest continued as I pursued graduate studies in theological seminary, and it was there that I began to apply my interests and research in cultural studies, religion, and theology to the fantastic in popular culture.
Although we live in an age more interested in finding spectacle than substance in popular culture, particularly in regards to the fantastic, at this blog the reader will find a unique synthesis of both a fans enjoyment of the fantastic in pop culture (nominated for a Rondo Award in Best Blog category of 2011), and an academic exploration of teratology (the study of monsters), so as to find out why so many people find these things fascinating. Through commentary and interviews, and an application of my background in intercultural and religious studies, I explore the social, cultural, mythic, archetypal, imaginative, and even sacred aspects of the fantastic. This includes not only explorations in film, television, video games, and comics and graphic novels, but also phenomena in popular culture such as hyper-real (or fiction-based) spiritualities, and the paranormal.
In regards to the fantastic and the sacred some may scratch their heads at how such connections can be made, while others (particularly religious conservatives) may find the idea repulsive, particularly in connecting horror with religion and spirituality. To such individuals I would remind them that human beings are homo narrans, storytelling creatures that often spin imaginative and frightening tails to explain their world. Such stories and the resulting experiences with the fantastic resemble Rudolf Otto's description of religious encounters with the numinous or the divine which he related in his book The Idea of the Holy. This experience has been described as a "daemonic-divine," one that is "a mystery which is fearful, awe-inspiring. . . . and fascinating." Timothy Beal has summarized this, and the connection between monsters and religion well:
One thing we discover is that there is a slippery slope between gods and monsters. As personifications of radical otherness, the monsters of supernatural horror are often identified with the divine, especially with its more dreadful, maleficent aspects. And the experience of horror in the face of the monstrous is akin in many respects to religious experience: Both are often represented as encounters with mysterious otherness that elicit a vertigo-like combination of dread and fascination -- a feeling captured in the older spelling of "aweful," which retains its sense of awe.

Religions have always had their monsters; if you don't believe me, just skim the book of Genesis, or Revelation, or the Tibetan Book of the Dead, or the Epic of Gilgamesh. But monsters have their religion, too. Indeed, the most unstoppably undead monsters are almost always in some sense religious, figures of monstrously divine or anti-divine otherness. Our ancient myths are full of them, from the Babylonian chaos mother Tiamat, whom Marduk slays in order to create the world from her body; to the biblical sea serpent Leviathan in Psalm 74, whom God kills in order to form a habitable place of homeland security for God's people; to the book of Revelation's great red dragon, "that ancient serpent who is called the Devil and Satan."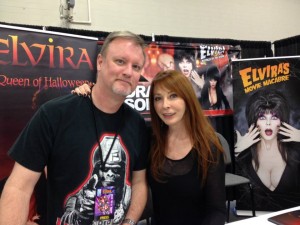 So while it may seem a strange concept for some readers, there is often a parallel between experiences with the numinous, the transcendent, and the divine, and experiences with the realms of horror, and also science fiction, and fantasy. These genres are especially relevant in our day as vehicles for the "fantastic postmodern sacred," as Em McAvan has argued in an essay on this topic in The Journal of Religion and Popular Culture (now available in the fine volume The Postmodern Sacred:
The postmodern sacred then consists of texts that are consumed in part for their spiritual content, for an experience of the transcendent ambivalently situated on the boundary of formal religious and spiritual traditions. The postmodern sacred is everywhere once one begins to look for it, for popular culture is rife with the detritus of millennia of religious tradition. Because of the suspension of the usual rules of the "real world" in their textual universes, the postmodern sacred occurs most of all in the literary and visual genres of science fiction, horror and fantasy (what I have termed the "fantastic postmodern sacred")...
A few words are in order in terms of explaining the title of this blog. "Theo" comes from the Greek word theos for god, and fantastique is a French term that refers to the fantastic in fantasy, science fiction, and horror. Put together, the title "TheoFantastique" makes reference to the possibility that the fantastic in pop culture may not only be entertaining, but also provide us with windows into transcendence.
My journey into the fantastic through my writing is not only explored here, but also at CineFantastique Online. In addition, you can find my reflections on the fantastic in a contribution to the anthology Butcher Knives & Body Counts: Essays on the Formula, Frights and Fun of the Slasher Film (Dark Scribe Press, 2011), as well as contributions to John Kenneth Muir's Horror Films of the 1990s (McFarland, 2011). I have contributed a chapter to Halos & Avatars: Playing Games with God (Westminster John Knox, 2010), edited by Craig Detweiler. With Kim Paffenroth I am the co-editor and a contributor to the volume The Undead and Theology (Pickwick Publications, 2012) (a Horror Writers Association Bram Stoker Awards finalist), and I contributed a chapter on Matrixism to Handbook of Hyper-Real Religions (Brill, 2012), edited by Adam Possamai. I am co-editor with Tony Mills and J. Ryan Parker of Joss Whedon and Religion: Essays on an Angry Atheist's Exploration of the Sacred (McFarland, 2013) (selected by the Joss Whedon Studies Association as a Mr. Pointy Award finalist), I edited The Supernatural Cinema of Guillermo del Toro: Critical Essays (McFarland, 2015). I am also co-editing a scholarly volume with Darryl Caterine titled The Paranormal and Popular Culture: A Postmodern Religious Landscape (Routledge, forthcoming), and editing and contributo to a peer-reviewed volume on Fantastic Fan Cultures and the Sacred (McFarland, forthcoming). Finally, I am a part of the editorial review board for GOLEM: Journal of Religion and Monsters.
In addition, the material on this blog is being used in universities internationally, has opened up opportunities for book endorsements and writing contributions, and has been quoted in at least one academic volume.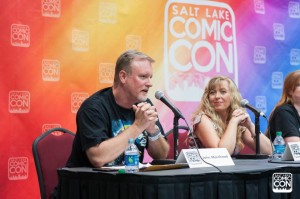 Beyond my own writing and interviews on this site be sure to visit the links I've compiled as well. These include sites that facilitate a fan's enjoyment of the fantastic, as well as those that can take us deeper into our understanding of the fantastic in human imagination and experience.
I hope you will undertake and enjoy this journey with me. Along the way I think you will not only experience both fright and fun, but you might also learn more about the fantastic and what it tells us about ourselves and the world in which we live. Thoughtful posted comments are always welcome, and inquiries can be directed to johnwmorehead@msn.com. Posts on this website are my intellectual property and are copyrighted. Please contact me with requests for quotations which exceed fair use.
Here's to a new world of gods and monsters. Enjoy your journey into the fantastic.
John W. Morehead