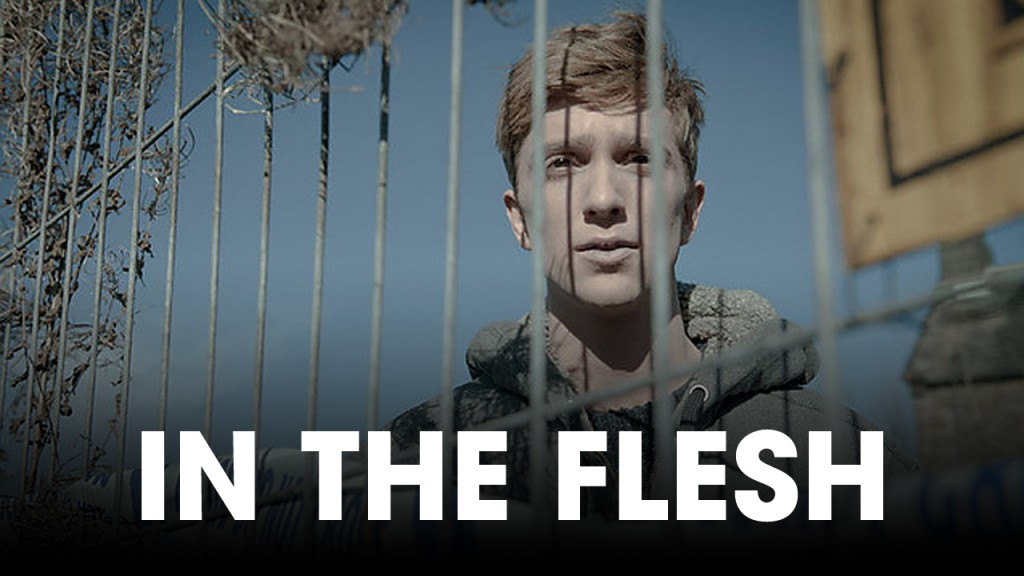 Somehow in my Internet surfing a couple of months ago I stumbled across the website for BBC America and their description of the miniseries In the Flesh. This fresh take on zombie mythology fascinated me, but I was saddened that I wouldn't be able to do anything other than watch sample clips and background information on the website. To my great surprise, while planning my Halloween DVR program recording, I discovered that BBC America was playing all of this series in a three hour block. It was only recently that I was able to make the time to watch the program.
Zombies have evolved over time, shifting from their roots in Haitian voodoun as living humans controlled by their masters with chemicals and perhaps a little magic, to flesh or brain eating ghouls, to living victims of contagion, to romantic figures in more recent incarnations. Although not as pliable as the vampire, the zombie has demonstrated some flexibility as we use it as a monstrous form to explore various facets of human existence. In the Flesh presents yet another expression of the zombie, a very human one that makes for interesting reflection.
The website for BBC America provides this description of In the Flesh:
Zombie teenager Kieren Walker isn't comfortable in his 'undead' state. He didn't want to come back – he wanted to be dead. After his suicide four years ago, his friends and family thought they'd never see him again.

But then, shortly after his funeral, thousands rose from the dead; and after months of rehabilitation and medication, the zombies, now known as PDS (Partially Deceased Syndrome) sufferers, are gradually being returned to their homes.

When Kieren returns, he is forced to confront his family, the community that rejected him and haunting flashbacks of what he did in his untreated state. Johnny Campbell directs, Ann Harrison-Baxter produces and Hilary Martin is the executive producer of the three-part series.
In my view In the Flesh involved several thought provoking elements that not only made for moving drama, but also for deep reflection for those willing to go beyond entertainment.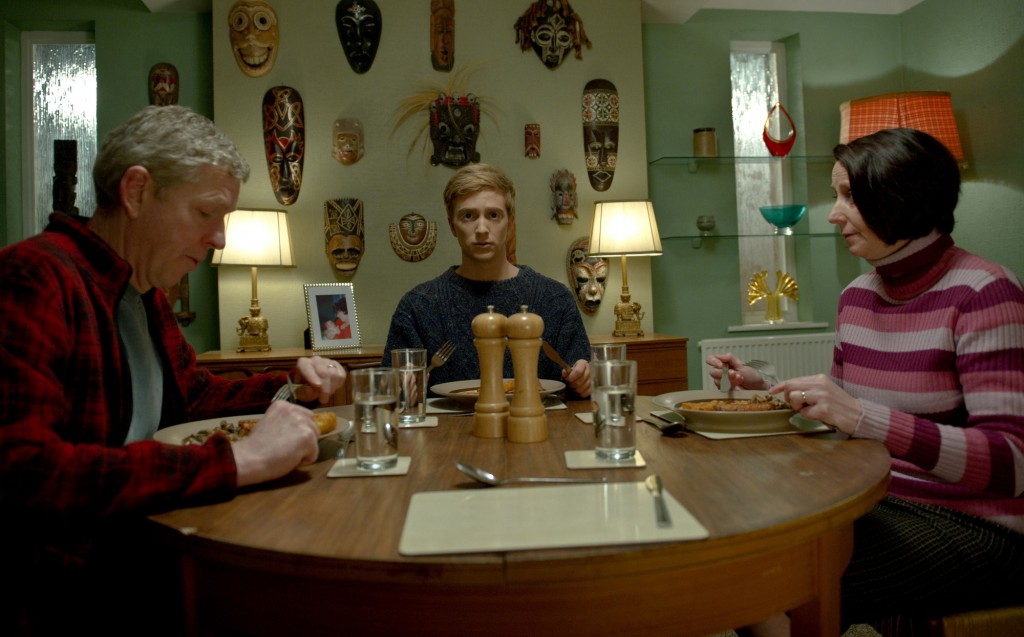 Previously much of the depiction of the zombie emphasizes the cannibalistic and horrific aspect of this figure as ghoul. This naturally produces fear, terror, and revulsion. Rarely has the zombie been depicted in ways that humanize them, a form of depiction that lends itself to sympathetic characters worthy of our identification with their experiences. In the first season and in its first episode, The Walking Dead television series flirted with this idea through one zombie who kept returning to her home in life and looking at the door as if some dim memory remained of life prior to becoming a Walker. Technically the "zombies" who are a part of In the Flesh aren't dead and risen ghouls, but instead have come back from death as those who suffer from a disease. But this form of depiction of those suffering from Partially Deceased Syndrome (PDS) opens up narrative possibilities that are not found in the more horrific counterparts of this series.
Depicting the returned dead as sympathetic characters wrestling with a chronic disease enables viewers to make connections to real-life conditions which involve social stigma. This includes homosexuality, reflected in this series in Kieren's relationship with Rick, as well as Muslims, a religious culture finding itself in tension with the majority culture in the UK. Social stigma and otherness is especially evident in this series as it parallels with those who suffer from things like HIV/AIDS, although the stigma there has lessened, but especially mental disease, where social stigma is still very strong. This aspect is reinforced when we consider that the main character, Kieren, took his own life before returning from death with PDS. In this way he carries with him the guilt and social stigma of both suicide as well as PDS, and he must wrestle with this in his neighborhood and broader society, but also in his own family as his parents and sister struggle with understanding the manner in which they lost their loved one, and had him returned to them as well. As a parent who lost an adult child to suicide, I found this element of In the Flesh most significant, and my hope is that it will foster discussion related to suicide and mental health issues for a broad audience.
This series grapples with suicide in moving ways. In one instance, at the end of this series, circumstances arise which mirror those that caused Kieren to take his life leading to PDS. He then disappears, and his family worries about where he is and what may be his fate. His mother finds him and takes him home, leading to a touching conversation between Kieren and his father. At first his father treats him gently, but Kieren pushes him to express his inner anger over not only this incident, but his past suicide. In another instance, Kieren's friend Amy reveals that she died of leukemia prior to PDS and she asks Kieren what he died of. He tells her he took his own life, and she asks what his final thoughts were before "the end." He replies, "Relief." In response to the pain of his personal circumstances and what he assumed was the death of a loved one, he chose to end his life. I found this response applicable to my own questioning. I have often wondered what the last thoughts of my son were before his suicide. My fear is that he thought of remorse. Perhaps if he thought of that event in terms of relief it becomes more comforting.
Religion is the third facet that is most interesting in this series from the perspective of this reviewer. This plays out in two ways. First, the small home town of Roarton where Kieren returns for reintegration after his initial medical treatment has a local church leader, Vicar Oddie, who is extremely influential in shaping negative opinion about PDS sufferers through an appeal to various Bible passages in fiery sermons. The Vicar's vengeance is played out through the Human Volunteer Force, a group responsible for rounding up and killing PDS sufferers during the initial outbreak, and continuing to do this with those who are attempting to reintegrate into Roarton.
The series plays off of two particular verses, Revelation 1:18 and 11:18:
[Jesus Christ speaking]: I am the Living One; I was dead, and now look, I am alive for ever and ever! And I hold the keys of death and Hades. - Revelation 1:18
The nations were angry,
and your wrath has come.
The time has come for judging the dead,
and for rewarding your servants the prophets
and your people who revere your name,
both great and small—
and for destroying those who destroy the earth." - Revelation 11:18
The latter passage is used by Vicar Oddie as he argues that PDS sufferers are an example of God's judgment. As a result, they are extreme "Others," inhuman beasts and monsters, things to be feared and destroyed so that they don't compromise the purity of the church, the community, and possibly the world.
The first passage is used by a mysterious figure, a skull-masked Prophet, who maintains a website designed for PDS sufferers where this Bible verse is the password for entry. On the site The Prophet promises a life for those who will join him, a life free from prejudice for those risen like Christ.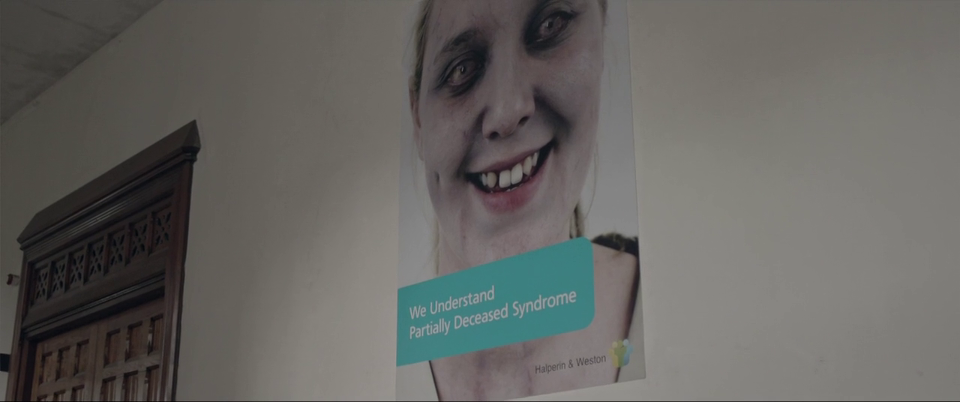 The interesting use of religion in this series is twofold. The first form of religion is that of judgmental and violent fundamentalism of the Vicar. He uses the Bible to create fear and suspicion, and he includes a peculiar "end-times" eschatology of two resurrections: the first of the monstrous PDS as imposters destined for death, and the second for the righteous who return free from physical blemish. Given the decline in credibility in religion in the West, particularly Christianity, this depiction of religion is not surprising. The second form comes by way of The Prophet. He too uses Bible verses, but tantalizes PDS sufferers with a promise of hope, even while remaining hidden behind a mask and residing in an undisclosed location. The viewer is left wondering whether the Vicar and The Prophet represent diametrical opposition in their use of religion, or two sides of the same negative coin.
Given my appreciation for this series, I was pleased to read that filming is now underway for Season 2:
Filming has begun on the second season of the zombie drama In the Flesh. Critically acclaimed creator, Dominic Mitchell, reignites the world of teenager Kieren Walker, a PDS (Partially Deceased Syndrome) sufferer who continues in his struggle to find acceptance. The six-part thriller (6x60), a BBC America co-production with BBC Drama Production North, is set to return to the channel in 2014 as part of Supernatural Saturday.
Those interested in a depiction of zombies that provides room for moving drama as well as personal, social, and religious reflection are encouraged to give In the Flesh a try. It may be repeated on BBC America, and is currently available on DVD and Amazon Instant Video.