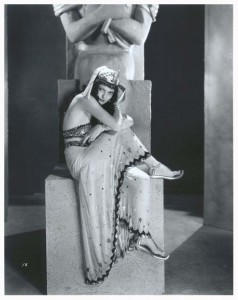 A recent visit to my local library to peruse the shelves for horror and science fiction DVDs revealed a few treasures the other day, including a copy of The Mummy (1932) Special Edition. This is part of the Universal Legacy Series that I have yet to add to my collection.
This 2-disc set includes bonus features, including Mummy Dearest: A Horror Tradition Unearthed and He Who Made Monsters: The Life and Art of Jack Pierce. There were a number of interesting facets of both mini-documentaries, but in the former I found one piece of trivia particularly interesting in regards to Boris Karloff's co-star, Zita Johann. Two film historians are featured in the documentary who had opportunities to interview Zohann before her death. They both state that she was a practitioner of the "occult sciences," that she was a believer in reincarnation, and one of the men claims that during filming Zohann passed out and claims to have had an out-of-body experience (mistakenly referred to in the documentary as a near-death experience). This appears to have been a case of art imitating life since Zohann plays a character reincarnated in the film. Just one of the interesting pieces of trivia related to a classic horror film and its connection to the esoteric religious tradition.
Related posts:
"Jasmine Day Interview - The Mummy's Curse: Mummymania in the English-Speaking World"
"Carrol L. Fry - Cinema of the Occult: New Age, Satanism, Wicca, and Spiritualism in Film"