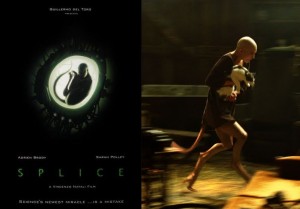 While I haven't been able to catch a showing of Splice yet in theaters, I have kept up with the reviews and commentary. There have been a few exceptions, but most of the commentary has been very positive. This is especially the case with Steve Biodrowski's review at Cinefantastique Online, a reviewer and website with an opinion that I value. Boidrowski places Splice on a part with Moon, calling it "a thoughtful little movie guaranteed to be the best filmed science fiction of the summer."
If Splice is such a good film, then why is it doing so poorly at the box office? The Los Angeles Times tries to answer this question in an article titled "Horror of horrors: Did the wrong kind of people like 'Splice'?" In the piece, author Patrick Goldstein provides several suggestions, including high praise from critics, a "hare-brained scheme" as a basic part of the film's plot, and perhaps most tellingly, that the film is too intelligent for most audience members:
The New York Times' Manohla Dargis gave away the game in her review, where she dropped the name of one cerebral filmmaker after another, comparing "Splice" to David Cronenberg's "The Fly," seeing affinities to the work of David Lynch and Ridley Scott's "Alien" and spotting allusions to James Whale's "Bride of Frankenstein." For Dargis, it was a delight to see an intelligent film that "explores chewy issues like bioethics, abortion, corporate-sponsored science, commitment problems between lovers and even Freudian-worthy family dynamics."
In his conclusion, Goldstein seems to give more weight to the "hare-brained scheme" idea as the best explanation for Splice's failure to attract a major audience at the box office. But in my view this doesn't suffice. As Goldstein's piece itself recognizes, horror and science fiction films, particularly those of the "mad scientist" variety, routinely incorporate plot devices that include scientific practices that push the envelope. In addition, a number of articles can be found on the Internet with discussion on genetic experimentation that some say is not too far away from the fictional scenario of Splice. If this is the case, then perhaps the best explanation is represented in the lengthy quotation from Goldstein above. The film is not the normal fare in horror, science fiction and fantasy. It is reserved in special effects and action, and attempts to interact with key social issues of the day. As I state in this blog's "About" page, "we live in an age more interested in finding spectacle than substance in popular culture, particularly in regards to the fantastic," and for this reason I believe audiences have not been attracted to this film in great numbers.
Do the "wrong kind of people" like Splice, film critics as well as reflecting and thoughtful audience members? Probably. But even if the major studios decide not to take another chance on an intelligent horror and science fiction film due to Splice's disappointing box office receipts, my hope is that at least independent filmmakers might continue to produce films like it, as well as Moon, and District 9. Is it too much to ask that we have a little intellectual meat and potatoes with our entertainment?