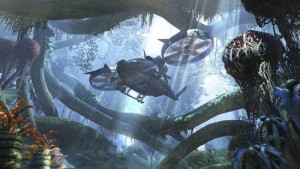 A recent article at CNN Entertainment presents some disturbing viewer reactions to James Cameron's Avatar. In a piece titled "Audiences experience 'Avatar' blues," Jo Piazza reports that some audience members have become seriously depressed and even suicidal after watching the film when contrasting the real-world situation of Earth with the beauty of the science fiction/fantasy world of the moon Pandora where Avatar's story unfolds:
On the fan forum site "Avatar Forums," a topic thread entitled "Ways to cope with the depression of the dream of Pandora being intangible," has received more than 1,000 posts from people experiencing depression and fans trying to help them cope. The topic became so popular last month that forum administrator Philippe Baghdassarian had to create a second thread so people could continue to post their confused feelings about the movie.

"I wasn't depressed myself. In fact the movie made me happy ," Baghdassarian said. "But I can understand why it made people depressed. The movie was so beautiful and it showed something we don't have here on Earth. I think people saw we could be living in a completely different world and that caused them to be depressed."
In some ways this situation is not difficult to understand. Presenting utopian (as well as dystopian) worlds has long been a facet of science fiction. Beyond this, as I've mentioned previously in discussing the work of Roger Aden's Popular Stories and Promised Lands: Fan Cultures and Symbolic Pilgrimages (The University of Alabama Press, 1999), interaction with the fantastic through literature, television and film provides individuals with an opportunity to transcend the habitus of our daily lives in order to immerse themselves in alternative worlds of possibility. These journeys may be understood as functioning as a symbolic pilgrimage, and in some circumstances literal pilgrimage of a quasi-religious or sacred nature, as has been argued about some fans in connection with their participation at Star Trek conventions.
But while some fan reactions to Avatar and Pandora might be understandable at the levels of utopian thinking and the escape from the habitus, it is also tragic in that some are so depressed about the actual rather than the virtual world that they consider suicide. Perhaps the best kind of utopian thinking about imaginative realms is that which we not only yearn for but are also willing to work toward in making it a reality rather than contemplating the end of life because the ideal has not been made concrete.