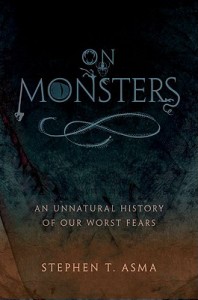 I'm reading a couple of books to prepare for interviews after the first of the year. They are both very good, so I'll give them a plug and a preview.
I became aware of the first one while reading a book proposal for my friend W. Scott Poole, author of Satan in America. It is On Monsters: An Unnatural History of Our Worst Fears by Stephen T. Asma (Oxford University Press, 2009). The dust cover for this book reads as follows:
We feared them lurking in our closets and under our beds in our childhood bedrooms. They were the characters exploited every year in our Halloween festivities and rituals. They stalked the pages of some of our favorite books, and now with the release of Where the Wild Things Are, they will roam freely on the movie screen. They are…MONSTERS! And as we continue to walk that fine line of fascination and fear for them, it is valuable to learn and analyze their place in history, so that we are able to face them, regardless of the form they take.

Stephen Asma's ON MONSTERS explores the history of monsters and analyzes how they have evolved over time, what functions they have served for us, and what shapes they are likely to take in the future. Asma describes how monsters, from the obvious movie creatures to terrorists to serial killers, embody our deepest anxieties and vulnerabilities, and symbolize they mysterious territory just beyond the safe enclosures of rational thought. Exploring philosophical treatises, theological tracts, newspapers, pamphlets, films, scientific notebooks, and novels, Asma illuminates the many ways monsters have come to represent our insecurities and uncertainties in daily life. And in these somewhat frightening times, Asma shows how we can live with our monsters, even if it means holding up the mirror to ourselves.
Asma is Professor of Philosophy at Columbia College Chicago.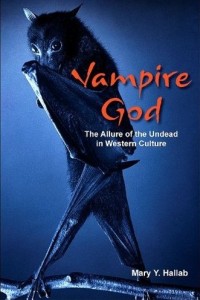 The second volume I am enjoying is Vampire God: The Allure of the Undead in Western Culture (SUNY Press, 2009) by Mary Y. Hallab. From the back cover of this book:
It seems we're awash in vampires these days, in everything from movies, television shows, and novels to role-playing games, rock bands, and breakfast cereals. But what accounts for their enduring popular appeal? In Vampire God, Mary Y. Halab examines the mythic figure of the vampire from its origins in early Greek and Slavic folklore, its transformation by Romantics like Byron, Le Fanu, and Stoker, and its diverse representations in present-day popular culture. The allure of the vampire, Hallab argues, lies in its persistent undeadness, its refusal to accept its mortal destiny of death and decay. Vampires appeal to our fear of dying and our hope for immortality, and as a focus for our doubts and speculations, vampire literature offers answers to many of our most urgent questions about the meaning of death, the nature of the human soul, and its possible survival after bodily dissolution. Clearly written, with wry human, Vampire God is a thoroughly researched, ambitious study that draws on cultural, anthropological, and religious perspectives to explore the significance and function of the vampire in relation to the scientific, social, psychological, and religious beliefs of its time and place.
Hallab is Professor Emerita of English Literature at the University of Central Missouri.
Look for an exploration of these great books here in early 2010.