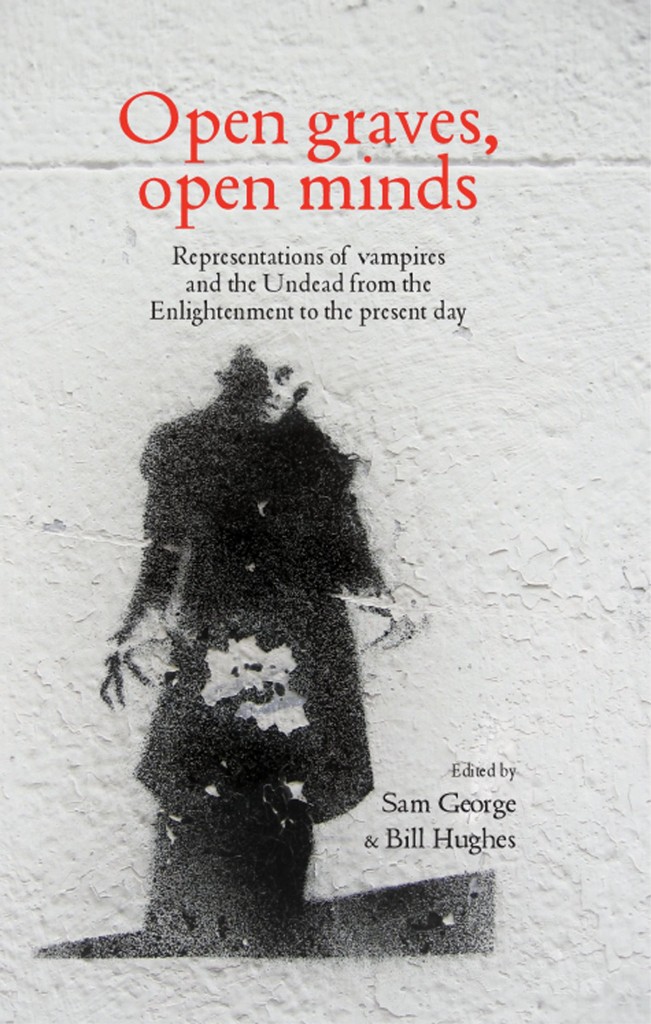 Previously TheoFantastique has noted the conference and publishing work of Open Graves, Open Minds. This post shares a recent update received on their work, including a book and conference.
OPEN GRAVES, OPEN MINDS relates the Undead in literature and other media to questions concerning genre, technology, consumption and social change. It features original research by leading scholars (Dr Sam George is a frequent commentator on the contemporary vampire; Dr Catherine Spooner, a pioneer of the study of Contemporary Gothic; and Dr Stacey Abbott is the author of the seminal work on the vampire in film and TV). The essays cover texts both familiar and unexpected, bringing debates around fictional vampires into the twenty-first century where they are currently enjoying a vogue.

This wide-ranging collection forms a coherent narrative which follows Enlightenment studies of the vampire's origins in folklore and folk panics, tracing sources of vampire fiction, through Romantic incarnations in Byron and Polidori to Le Fanu's Carmilla. Further essays discuss the undead in the context of Dracula, fin-de-siècle decadence and Nazi Germany together with early cinematic treatments. The rise of the sympathetic vampire is charted from Coppola's Dracula, to Buffy the Vampire Slayer and Twilight. More recent manifestations in novels, TV, Goth  subculture, young adult fiction and cinema are dealt with in discussions of True Blood, The Vampire Diaries and much more. The book is essential reading for those who wish to explore open graves with an open mind: scholars of literature and film, enthusiasts of all things vampiric and writers of Undead fiction. The Transylvanian notebooks of the award-winning novelist Marcus Sedgwick conclude the study, shedding light on recent trends in young adult fiction. Sedgwick lays bare the writing process for budding novelists and creative writers in the genre.

The book which emerged from the project can be purchased from Manchester University Press: Open Graves, Open Minds: Representations of Vampires and the Undead from the Enlightenment to the Present Day. OGOM also produced a special issue of Gothic Studies on vampires.

Finally, following the vampire conference and Stoker centenary symposium, OGOM is reconvening in the autumn of 2015 for a werewolf inspired conference, Company of Wolves: Sociality, Animality and Subjectivity in Literary and Cultural Narratives- Werewolves, Shapeshifters and Feral Humans. Full details and call for papers to follow shortly. There is also have a new blog at http://opengravesopenminds.wordpress.com/.