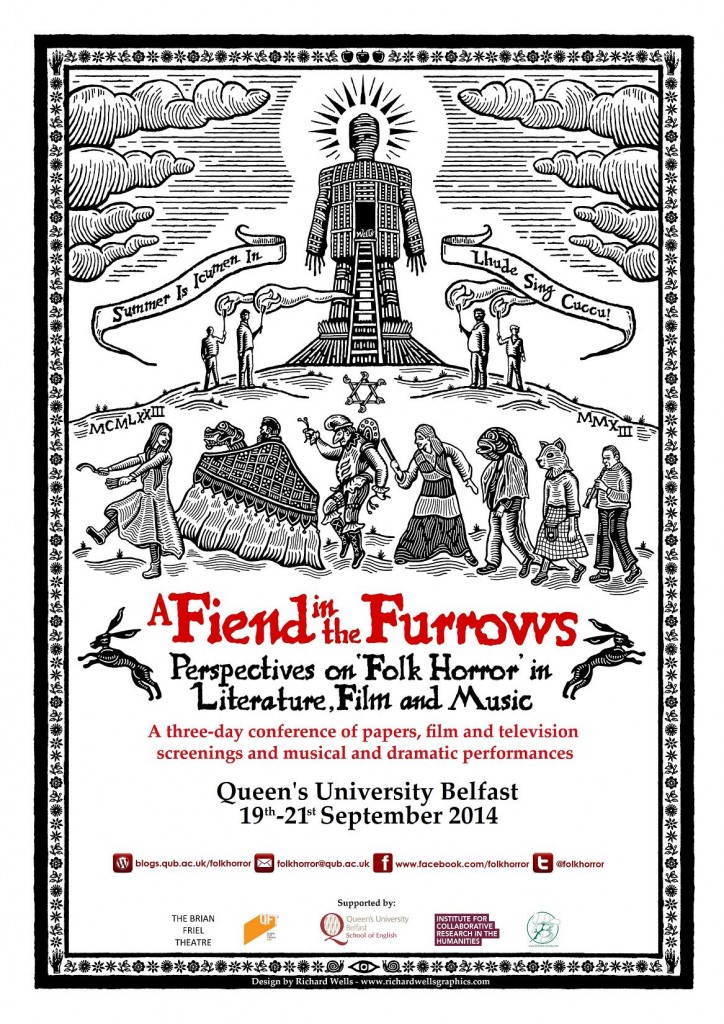 A Friend in the Furrows: Perspectives on 'Folk Horror' in Literature, Film and Music
19-21 September, 2014
Queen's University Belfast
'A Fiend in the Furrows' is a three-day conference in association with the School of English and the Institute for Collaborative Research in the Humanities at Queen's University Belfast, exploring 'folk horror' in British and Irish literature, film, television, and music. The event will include academic papers, film screenings, musical performances, and readings.
Through the writing of Nigel Kneale and Alan Garner, among others, the tradition has influenced British and Irish horror cinema and television, being revived and reimagined in films such as Quatermass and the Pit (1967), The Devil Rides Out (1968), Witchfinder General (1968), Blood on Satan's Claw (1971), The Wicker Man (1973), and more recently in Wake Wood (2010) and Ben Wheatley's Kill List (2011) and A Field in England (2013). The conference will examine 'folk horror' texts, films and music in their period context and the implications for British and Irish culture's understanding of their own unsettled pasts.
It will feature papers examining topics such as:
Late 19th century Gothic literature
Early 20th century weird fiction
Modernism and weird fiction
The ghost story
Contemporary horror and fantasy fiction
Children's literature
Folklore collectors and redactors
Folklore and the supernatural
Primitivism, atavism, degeneration
Rural and urban folklore
Horror cinema and television
Folkmusic
More on the conference here.
My thanks to Heather Greene for letting me know about this conference.