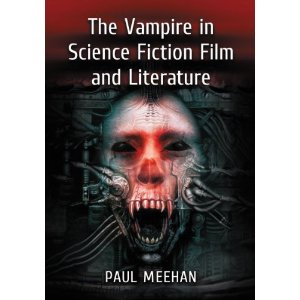 Paul Meehan is a friend of TheoFantastique who has been interviewed and contributed guest essays here previously. I am currently reading his latest book for a review in the Journal of the Fantastic in the Arts. The book is The Vampire in Science Fiction Film and Literature (McFarland, 2014).
Vampires have been a popular subject for writers since their inception in 19th century Gothic literature and, later, became popular with filmmakers. Now the classical vampire is extinct, and in its place are new vampires who embrace the hi-tech worlds of science fiction.

This book is the first to examine the history of vampires in science fiction. The first part considers the role of science and pseudo-science, from late Victorian to modern times, in the creation of the vampire, as well as the "sensation fiction" of J. Sheridan Le Fanu, Bram Stoker, Arthur Conan Doyle and H.G. Wells. The second part focuses on the history of the science fiction vampire in the cinema, from the silent era to the present. More than sixty films are discussed, including films from such acclaimed directors as Roger Corman, David Cronenberg, Guillermo del Toro and Steven Spielberg, among others.