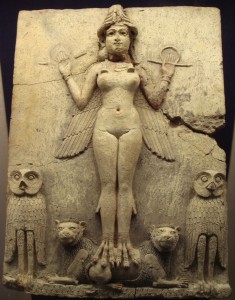 A brief but interesting item in this post.
In keeping up with ongoing elements and developments in biblical studies I came across a blog I hadn't read before. It included a post titled "Lilith in the Bible and Jewish Folklore." Readers may have heard of Lilith from Jewish folklore with the idea that she was Adam's second wife. But this post takes another approach after considering a mention of her in the book of Isaiah, chapter 34 (Jerusalem Bible translation):
Wild cats will meet hyenas there,
the satyrs will call to each other,
there too will Lilith take cover
seeking rest.
After some discussion of the various instances where Lilith is mentioned in different cultures and time periods, the author notes that she appears in ancient Babylonian and Assyrian contexts. The piece concludes with some interesting words that remind us that all religions, including the Judeo-Christian tradition, incorporate monsters and mythical creatures:
"The usage of Lilith in Isaiah 34 — as a nature spirit that haunts ruins and roams the uninhabited wilderness — might lie somewhere between its earlier stage as a Babylonian wind deity and its later stage as a mischievous demon that would haunt people's homes and oppress them."
Related posts:
"J. Gordon Melton Interview on Vampire Mythology"
"Timothy Beal: Religion and Its Monsters"