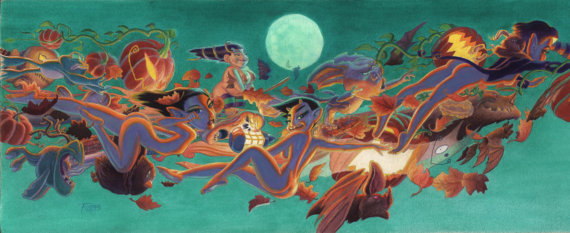 From time to time this blog has explored art related to genre and Halloween, and with this post I want to promote the work of an artist I just discovered. This piece is titled "Halloween Frolics," found at Etsy.com by Grayson Fogg of The Autumlands, a great piece for this holiday season. Here is the website's description:
In The Autumnlands, Halloween is a month-long celebration that culminates on October 31st with a variety of activities, from solemn to raucous, depending on the region. Processions and parades are held throughout the month, with some being grand, annual events, while others--particularly those involving faeriefolk--arise spontaneously. Here we see a blend of fey folk and assorted spirits out cavorting under a swollen harvest moon. It almost makes one wish you could fly, to join in the fun.

The flying festivities are painted in colorfast watercolor, acrylic, and colored pencil, on a 17"x6 3/4" sheet of acid-free illustration board, and sealed with multiple coats of clear, archival fixative.
The artist lists several other great works of art by Fogg. Take a look.