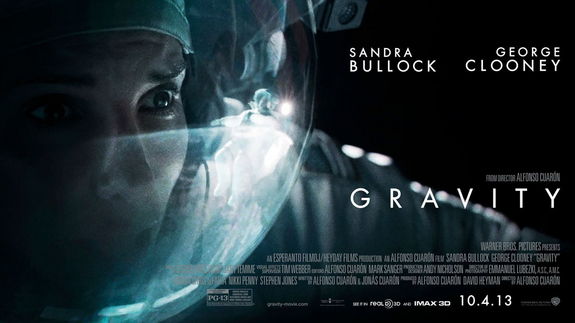 For a while now there has been some heated discussion going on in the science fiction community over the new film Gravity. Before it appeared in theaters disagreements raged over whether the film should be classified as science fiction. Dave Taylor at ScienceFiction.com argues that this should not be considered a genre film, and weighs in with a review that finds the film disappointing.
For me I find myself in agreement with Taylor on the former, but not on the latter. The film cannot be understood as a form of speculative fiction in that it does not speculate or posit any kind of futuristic technology, civilization, or alien life, but instead explores contemporary technology in space travel set in a disaster scenario. This make Gravity a drama or thriller more like Apollo 13 than 2001, or more recently, Moon and Europa Report. However, perhaps an argument could be made that Gravity is more of a thriller that borders on horror as it largely explores the tense and seemingly hopeless struggles of a single individual in a horrific and life threatening situation throughout the majority of the film, much as was done in Buried.
In addition, there is a spiritual element to the film. It can be understood as incorporating echoes of Lovecraft's cosmic horror where a fragile humanity wrestles with the question of meaning in light of a seemingly indifferent universe. Related to this Jeffrey Weiss at The Huffington Post discusses how this film "philosophizes about existence for the 'Nones,'" that segment of the population identified in a Pew Survey who respond "None" to questions of religious affiliation. Weiss connects the Nones to Bullock's character:
Central questions of existence are raised: "What's the point of going on? What's the point of living?"

Why, indeed? Stone, we've learned, has been emotionally adrift since her 4-year-old daughter died in an accidental fall. But somehow, somewhere, she comes up with an answer that she doesn't monologue to those existential questions. She does talk about her daughter as an angel and asks the spirit of one of the characters who hadn't made it to give the kid's spirit a hug.

And when she finally ends up safely (we assume) on a beach on a lake somewhere on Earth, she grabs a handful of sand and murmurs "Thank you."

But who is she talking to?
Returning to Taylor's review, the author takes exception to the alleged lack of tension in the film in contrast with Apollo 13. In that film the stranded astronauts worked with NASA in Houston to try to work out a solution for a safe return, wherein with Gravity all communication with NASA is lost and the astronauts must find their own form of rescue. For me there was plenty of tension that was portrayed by the challenge of being alone while hurtling through space without a space shuttle, and no back and forth between astronauts and NASA technicians was necessary.
The visuals for the film are impressive. The cinematography of this film was amazing, coupled with the exceedingly believable special effects. Many of the scenes unfold as long, seamless shots without recourse to cuts as the camera appears to move through space and shift from astronaut to astronaut, then to earth and back again. The 3D in this film was also helpful. It did not come across as a gimmick to entertain the audience, but instead served as a compliment to viewers and contributed to the experience of what it would be like to be in space.
Some are suggesting that Gravity will be nominated for several Academy Awards. I can't disagree, and I highly recommend this film.