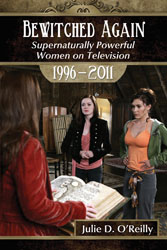 This title of interest is Bewitched Again: Supernaturally Powerful Women on Television, 1996-2011 (McFarland, 2013) by Julie D. O'Reilly.
Starting in 1996, U.S. television saw an influx of superhuman female characters who could materialize objects like Sabrina, the Teenage Witch, defeat evil like Buffy the Vampire Slayer and have premonitions like Charmed's Phoebe. The extraordinary abilities of these women showed resistance to traditional gender roles, although these characters experienced infringements on their abilities in ways superpowered men did not.

Supernaturally powerful women and girls have remained on television, including the heavenly connected Grace (of Saving Grace), telepathic Sookie (of True Blood), and magical Cassie (of The Secret Circle). These more recent characters also face numerous constraints on their powers. As a result, superpowers become a narrative technique to diminish these characters, a technique that began with television's first superpowered woman, Samantha (of Bewitched). They all illustrate a paradox of women's power: are these characters ever truly powerful, much less superpowerful, if they cannot use their abilities fully? The superwoman has endured as a metaphor for women trying to "have it all"; therefore, the travails of these television examples parallel those of their off-screen counterparts.

About the Author
Julie D. O'Reilly is an assistant professor of communication and women's and gender studies at Heidelberg University in Tiffin, Ohio, where she also serves as the chair of the Communication and Theatre Arts Department and as a co-director of the Women's Leadership Initiative. She lives in Tiffin.