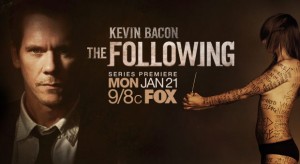 Last week FOX premiered the latest addition to its lineup of thriller or horror programming with The Following. This series brings Kevin Bacon to the small screen in a combination of serial killer tracking, Gothic horror invoking Edgar Allan Poe, and stereotypical cult followings. The FOX website describes the series:
THE FBI estimates there are currently up to 300 active serial killers in the United States. What would happen if these killers had a way of communicating and connecting with each other? What if they were able to work together and form alliances? What if one brilliant and charismatic, yet psychotic mastermind was able to bring them all together and activate a cult of believers following his every command?

Welcome to THE FOLLOWING, the psychological thriller from creator/executive producer Kevin Williamson ("The Vampire Diaries," "Dawson's Creek," the "Scream" franchise) and starring Golden Globe winner and Emmy Award nominee Kevin Bacon in his primetime series debut.

When notorious serial killer JOE CARROLL (James Purefoy) escapes from death row, the FBI calls former agent RYAN HARDY (Bacon) to consult on the case. Having since withdrawn from the public eye, Hardy was responsible for Carroll's capture in 2003, after Carroll murdered 14 female students on the Virginia college campus where he taught literature.

Hardy is a walking textbook of all-things Carroll. He knows him better than anyone; he is perhaps Carroll's only psychological and intellectual match. But the Ryan Hardy who broke the Carroll case years ago isn't the same man today. Wounded both physically and mentally by his previous pursuit of this serial killer, it's been a long time since Hardy has been in the field. This new investigation is his redemption, his call to action.

In contrast to the original investigation years ago, Hardy isn't calling the shots anymore. He works closely with an FBI team, which includes young, razor-sharp MIKE WESTON (Shawn Ashmore) and FBI Specialist DEBRA PARKER (Annie Parisse), who is brought in to lead the investigation into Carroll and his followers. Although Weston seems to idolize him, most of the team considers Hardy to be more of a liability than an asset. But Hardy proves his worth when he uncovers that Carroll was covertly communicating with a network of followers in the outside world. It quickly becomes obvious that he has more planned than just a prison escape.

The FBI's investigation leads Hardy back to CLAIRE MATTHEWS (Natalie Zea), Carroll's ex-wife and the mother of the criminal's young son, JOEY (newcomer Kyle Catlett). Close during Hardy's initial investigation, Hardy turns to Claire for insight into Carroll's next move.

The tension rises when Carroll's accomplices kidnap his intended last victim (guest star Maggie Grace) from 10 years ago. Hardy becomes ever more determined to end Carroll's game when he realizes that the psychopath intends to finish what he started.

The intense, spellbinding drama will follow Hardy and the FBI as they are challenged with the ever-growing web of murder around them, orchestrated by the devious Carroll, who dreams of writing a novel with Hardy as his protagonist. But since anyone anywhere could be a follower, how do you know who to trust?
When the previews for this series first appeared the program looked intriguing. But after watching the premiere episode it will be surprising if the series has much longevity. Kevin Bacon turns in a good performance as a tortured former FBI agent who still wrestles with the psychological and physical scars of his encounter with a serial killer he helped put in prison -- twice. But Bacon is not enough to carry a series. The program includes two major flaws for this reviewer.
First, the pilot episode sets the stage for the rest of the series wherein Bacon's character will be tracking down various serial killers, but not individual, disconnected killers across the country. Instead, this series offers a scenario where a particular serial killer functions as the primary villain but is imprisoned once again at the end of the first episode. For the rest of the series Bacon must pursue a network of serial killers all befriended, taught, and led in some fashion by the initial killer caught by Bacon. This scenario runs counter to what we know psychologically about serial killers in that they engage in their killings as individuals and tend not to befriend each other in large networks. Public fascination with serial killers has grown over the years, and with it has come an increased knowledge of some of what makes up this behavior. The incorporation of a major plot element that runs counter to what many viewers may know about serial killers may prove difficult to square with the suspension of disbelief as future episodes unfold.
Second, the program incorporates stereotypical and inaccurate information about "cult" groups. In the program, and the thinking of many people as a result of popular television programming related to "religious cults," a charismatic figure (in this case the main serial killer villain) beguiles a group of sheepish followers to do his bidding, whether religious or criminal (or both). The closest real-world group that resembles what is depicted in The Following is Charles Manson with his Manson Family. However, Mason's group is better understood as an anomalous communal group of individuals who followed Manson into murder and other criminal acts, rather than some kind of representative "cult group" found with great frequency. Although such stereotypes continue to be perpetuated in the popular media and among various anti-cult groups, a large body of scholarship exists that points out the inaccuracies, oversimplifications, and falsehoods involved in such depictions. It is unfortunate that The Following taps into problematic cult tropes and stereotypes as a major basis for their series storyline.
One further element of the program is worth mentioning. The work of Edgar Allan Poe is invoked as the main serial killer finds inspiration in Poe's literary work for his own killing. This is reminiscent of the 2012 film The Raven starring John Cusack. But thus far The Following has done little with this great literary source. Even so, it was enough to give one writer at Salon reason for accusing the series of "Desecrating Poe."
It is difficult to judge a series on the premier episode, but from what debuted last week, and in light of the shortcomings described above, it is difficult for this reviewer to believe that The Following will find one among viewers.