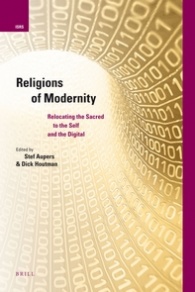 While doing some research online yesterday I discovered that TheoFantastique was quoted in an academic volume. The book is Religions of Modernity: Relocating the Sacred to the Self and the Digital (Brill, 2010), edited by Stef Aupers and Dick Houtman. This volume references TheoFantastique (read it at Google Books) and quotes from an interview with James McGrath in an essay by Adam Possamai and Murray Lee titled "Religion and Spirituality in Science Fiction Narratives: A Case of Multiple Modernities?." A more recent interview with McGrath is available on this blog where he discusses the book he edited and contributed to, Religion and Science Fiction (Pickwick, 2011), and regular readers of this blog may recall that Adam Possamai has been interviewed here previously on his work on hyper-real or fiction-based spiritualities. He was responsible for recruiting me to write a chapter on Matrixism for his Handbook of Hyper-real Religions which he edited (Brill, 2012) that was part of the Brill Handbook on Contemporary Religion series.
Following is a description of Religions of Modernity:
Religions of Modernity challenges the social-scientific orthodoxy that, once unleashed, the modern forces of individualism, science and technology inevitably erode the sacred and evoke the profane. The book's chapters, some by established scholars, others by junior researchers, document instead in rich empirical detail how modernity relocates the sacred to the deeper layers of the self and the domain of digital technology. Rather than destroying the sacred tout court, then, the cultural logic of modernization spawns its own religious meanings, unacknowledged spiritualities and magical enchantments. The classical theoretical accounts of modernity by Max Weber, Emile Durkheim and others, it is argued in the introductory chapter, already hinted that there's a future for such religions of modernity.
Contributors include Stef Aupers, Kelly Besecke, Kirsten Marie Bovbjerg, Siobhan Chandler, Olav Hammer, Dick Houtman, Murray Lee, Carly Machado, Karen Pärna, Adam Possamai, Linda Woodhead, and Dorien Zandbergen.
For ordering information see the Brill website linked to above, or for those with a modest library budget your local city or university library should be able to secure a copy via interlibrary loan.
Related to this topic of science fiction and religion, there is a recent essay at i09 by Charlie Jane Anders titled "Why Smug Atheists Should Read More Science Fiction." This article addresses the topic of religion and transcendence in science fiction. And Acculturated features an essay by Brandon J. White, ""Serenity as Secular Myth: The Future of Religion in Science Fiction."
Related posts:
"David Hartwell and the Wonder of Science Fiction"
"Airlock Alpha Debate: Is There Too Much Religion in Science Fiction?"