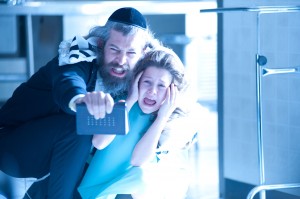 The Possession is Sam Raimi's most recent horror film, and it also represents Hollywood horror's latest installment in our ongoing fascination with the idea of possession by a dark spiritual force and the related process of exorcism. What makes Raimi's film different from so many of the films that explore this theme is it's Jewish perspective on the subject matter. Raimi was recently interviewed in an essay in Jewish Journal.com where he presented the following thoughts:
"I was just mesmerized because of the rarity of Jewish-themed supernatural stories," Raimi, 52, said during an interview while on a break from editing his upcoming film, "Oz, The Great and Powerful." "Wanting to know what my faith might have in the dark shadows of its closets was fascinating to me, because I'd always had to see movies based in other religious faiths, like long-dead ancient Egyptian religions or Catholicism [as in] 'The Exorcist.' I discovered that my own culture had its own ghosts and demons, and the Jewish element also made it very original, which I think horror films have to be to be effective."
It remains to be seen whether The Possession will be a good film, but it does represent a different religious take on the subject matter, much like The Unborn, and we will have to see how audiences respond at the box office.
Related posts:
"Of Folklore and Fatherhood: The Unborn and Cinematic Reflection"
"Cinefantastique Online - THE RITE: Satan, Possession and Unlikely Sources of Faith"
"Psychology Today: What is it That Fascinates us About Exorcism and Demonic Possession?"
"Satanism, Exorcism, and Social Horror Trends"