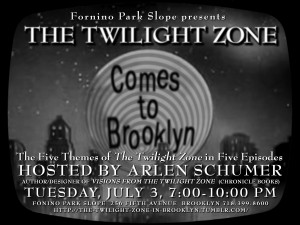 July 4th is not only known for fireworks and barbeques, but for the SyFy Channel's bi-annual (the other is New Year's Eve) Twilight Zone Marathon, a 21-hour nonstop lovefest of what Arlen Schumer (author/designer of the only coffeetable art book about the classic television series, Visions From the Twilight Zone ) calls "The Father of American Popular Culture," because, he asserts, the leading lights of modern sci-fi/fantasy/horror—say, Stevens Spielberg and King, George Lucas — were TZ creator Rod Serling's virtual children. Except, Schumer says, with all the scenes SyFy has to excise from each 23-minute episode for a raft of commercial filler, and no host or editorial voice guiding you through it all, you're not getting what he calls the optimal Twilight Zone learning experience.
So come to Fornino's Park Slope in Brooklyn on TZ Marathon eve, Tuesday night, July 3rd, for his mini-marathon of five of the greatest episodes framed under his "Five Themes of The Twilight Zone" rubric (read his essay online at his chock-full-of-content site), wherein he introduces each episode within a specific theme of Serling's — like the classic with Anne (Honey West) Francis caught in a department store at night with a bunch of spooky mannequins under the aptly-titled "Suburban Nightmares" theme—with his patented "VisuaLecture" presentation style, in which every image he projects behind him, fading sensuously image to image, is indeed worth the same thousand words Schumer spews with pop culture passion (but without the academic jargon) in his spirited introductions. This ain't your father's art history lecture.
To add more to the trippy festivities, Fornino will be serving a special Twilight Zone-homage black & white menu (from Kahlua-and-cream cocktails to homemade black & white cookies), and stipulating all come dressed in black & white. For New Yorkers, not a problem. Tuesday, July 3rd, 7-10pm, Fornino Park Slope, 256 Fifth Avenue, Brooklyn 718-399-8600. Register on the Facebook page, and learn more about the presentation here.
A QUESTION OF IDENTITY
"The place is here...the time is now...and the journey into the shadows that we're about to watch could be our journey..." These first words spoken by Rod Serling at the beginning of the first episode of The Twilight Zone not only introduced the concept to an unsuspecting 1959 television audience, but helped usher in the 1960s as well. And no episode is more defining of the '60s as well as the series itself than the stylized plastic surgery allegory "The Eye of The Beholder," in which Serling takes the age-old adage about beauty and gives it such a thorough Twilight Zone treatment that it remains the series' quintessential episode, being both of its time — a metaphor for the burgeoning civil rights movement — and timeless, as his message of tolerance and compassion finally reveals that we are all faceless beneath our bandages, invisible to a society that would prefer nothing more than to render our individuality…obsolete.
SUBURBAN NIGHTMARES
Perhaps the single factor most responsible for the success and longevity of The Twilight Zone was Rod Serling's acute ability to identify primal American fears and build stories around them, set in commonplace surroundings— a psycho-American gothic of sorts. Like being locked in a department store at night: the sinister setting of the unforgettable "The After Hours."
SCIENCE & SUPERSTITION
Serling perceived that the benign quest into space nevertheless carried with it the destructive imperialist desire to invade and conquer. Richard Matheson's episode turns the tables on "The Invaders," showcasing Agnes Moorehead's dialogueless, mimetic, tour de force performance as a farm woman terrorized by tiny, mysterious figures.
OBSOLETE MAN
Many of the themes Serling would later clothe in fantasy and illusion in The Twilight Zone were first explored in his Fifties teleplays; his most recurring theme — alienation of the individual through bigotry, racism, and corporate and technological oppression — was that of the "The Obsolete Man."
THE TIME ELEMENT
The time element was a cornerstone of The Twilight Zone, a dimension Rod Serling described as "timeless as infinity." And its single greatest time travel episode—not only of the series itself, but of all television shows and movies as well — is the timeless classic, "Walking Distance."