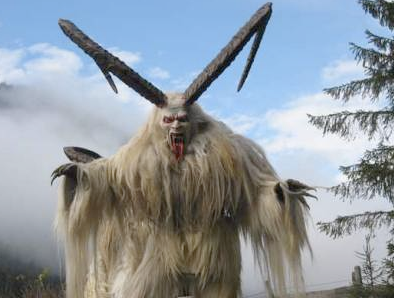 Today I learned of a new twist that has been associated with the various historical and cultural influences that have gone into our contemporary Christmas holiday. Apparently there is the Krampus creature that comes from European Alpine folklore. This monster accompanied St. Nicholas and whereas St. Nick would pass out gifts to the good children, Krampus brought death and destruction to the bad children.
NPR recently included a brief feature on Krampus which is still featured in seasonal celebrations in various parts of the globe. Some unhappy with the goodness and happiness associated with the American Christmas holiday have even recreated their own Krampus celebration in the States.
Perhaps more Americans should consider Krampus as they reflect on whether they were naughty or nice in the preceding year. At any rate, for those who want a monstrous twist in their Christmas, Krampus would make Tim Burton happy and fit right in with The Nightmare Before Christmas.