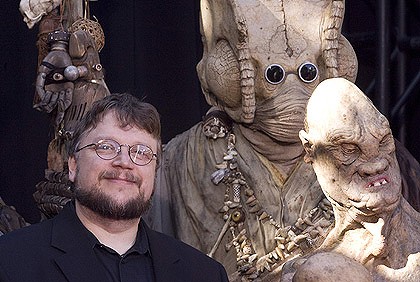 TIME magazine features the piece "10 Questions" with filmmaker Guillermo del Toro from the new September 5 issue which is online today and which will be on newsstands tomorrow. Here is an excerpt from the interview with questions and responses of interest to the focus of TheoFantastique:
You have an interesting living situation, with a house, separate from your family, for just your books, your posters, your art and your work.

As a kid, I dreamed of having a house with secret passages and a room where it rained 24 hours a day. The point of being over 40 is to fulfill the desires you've been harboring since you were 7.

What did your wife have to say about that?

She was happy. When you're 7, your mother throws away your comic books. When you're 40, you should be able to prevent that.

How do you deal with people who think of the fantastic as infantile?

I try to avoid long conver­sations with them. You cannot convince a Buddhist to become a Protestant any more than you can convince a person who embraces real­ism as the highest form of art that fantasy is an equally important manifestation. It's impossible.

You speak as if your art is your religion.

It is. To me, art and story­telling serve primal, spiritual functions in my daily life. Whether I'm telling a bedtime story to my kids or trying to mount a movie or write a short story or a novel, I take it very seriously.
Link to full story on TIME.com (subscription required): http://www.time.com/time/magazine/article/0,9171,2090370,00.html
Don't Be Afraid of the Dark, the film del Toro co-wrote and produced, opens in the U.S. on August 26th.