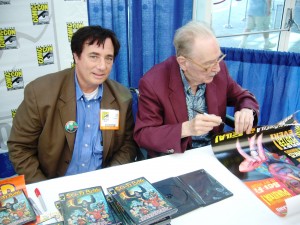 A while ago I came across an article online by Paul Davids from FATE magazine (Sep.-Oct. 2010) titled "THE ACKERMAN ENIGMA: The Strange Case of Forrest J. Ackerman." The article brought together a number of elements of interest, from the late horror culture icon Forrest J. Ackerman to the paranormal. Since I had interacted with Davids previously for his fine work on THE SCI-FI BOYS documentary, I got in touch with him in order to discuss the subject matter related to his article in FATE.
Paul Davids' career in film and TV took off when he was the production coordinator for 79 episodes of the original TRANSFORMERS shows and wrote several of the episodes. He is co-author (with his wife, Hollace) of six STAR WARS sequel books for Lucasfilm. The many films (including films for television) he has produced and/or directed include: ROSWELL, TIMOTHY LEARY'S DEAD, STARRY NIGHT, THE ARTIST & THE SHAMAN, THE SCI-FI BOYS, JESUS IN INDIA and BEFORE WE SAY GOODBYE. He also has writing credits on all those films plus his first feature as screenwriter, called SHE DANCES ALONE. Four of his films are in release to either DVD or TV through Universal Pictures Home Entertainment or Universal Pictures International TV Division. He is in the process of completing THE LIFE AFTER DEATH PROJECT. Paul Davids is also a noted artist, and some of his works can be seen at his online gallery at www.pauldavids.com. Other website to explore his work include www.starrynightmovie.com, www.jesus-in-india-the-movie.com and www.beforewesaygoodbyethemovie.com A member of the Writers Guild of America and the Producers Guild of America, Paul is also a member of the Magic Castle in Hollywood, and he is now also creating comedy music. His song "WE LOVE YOU, WE HATE YOU," was featured as the start-off song on Dr. Demento's program of March 19th (see www.drdemento.com) and he hopes to soon emerge as a rap singer with some very funny, very contemporary rap music.
TheoFantastique: Paul, thanks again for discussing your forthcoming documentary as it touches on Forrest J. Ackerman and your paranormal experiences. To set the stage, can you describe how you came to know Forry?
Paul Davids: In issue #24 of FAMOUS MONSTERS OF FILMLAND in August of 1963, Forry announced his Project 6000, a cross-country trip from Los Angeles to New York to attend the World Science-Fiction Convention (he had only missed one convention in 1951, when his father passed away and he had to turn back to L.A. while he was en route to New Orleans). As part of that journey, Forry came to Washington, D.C. (joined by his publisher Jim Warren from Philadelphia) and met fans there in a hotel. I showed up with a friend, Jeff Tinsley, who I'd been making amateur monsters movies with for a couple of years using stop-motion animation techniques. I met Forry and Jim Warren at that hotel on a Saturday, and they invited me back for a Sunday morning fan gathering there and suggested I bring some of my amateur films and a projector. It was a thrill to show my work to them that Sunday. The Washington Evening Star had recently published a full-page in their Teen section on our amateur movies, and so Forry invited me to submit photos and material about our amateur efforts to FM. We were rewarded with a two-page spread in issue #27 of FM, followed later by photos and more in issue #35 when we received an Honorable Mention Award in the FM contest for our version of "Siegfried Saves Metropolis" based on Forry's screenplay. Then in 1969, upon graduating from Princeton University, I set out cross-country myself, having been accepted as one of the first Fellows at the American Film Institute Center for Advanced Film Studies in Beverly Hills. I looked up Forry at his Ackermansion soon after I arrived and visited him many times. In 1970 I invited both Forry and George Pal together to the AFI to give a seminar, and Forry wrote about that wonderful day in FM #68. Our relationship grew through the years. He invited me to write (with photo byline) for MONSTERLAND and even invited me and my wife, Hollace, to the Ackermansion on Glendower to join him and Wendayne for dinner with Ray and Diana Harryhausen and Zsoka Pal (George Pal's widow) in 1986, the year our FIRES OF PELE book came out (Forry wrote the Foreword for our first book). When Hollace and I began writing STAR WARS sequel books, we dedicated PROPHETS OF THE DARK SIDE to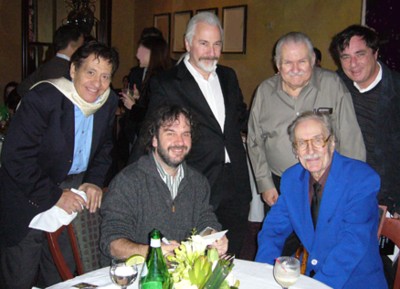 Forry. Forry saw all of the films I made during his lifetime and especially appreciated STARRY NIGHT. He went to see TIMOTHY LEARY'S DEAD with me in a theater in L.A. And then, in 2002, I began working on THE SCI-FI BOYS, which dealt above all with Forry's influence on the generations who followed him and who became professionals in the worlds of imagi-movie productions and special effects. In 2003 I filmed him at George Pal's grave re-reading the eulogy for Pal he had presented at George Pal's funeral in May of 1980 (I had been there at the funeral to hear him that day), and that became a scene in THE SCI-FI BOYS. When the film was completed and accepted for distribution by Universal Pictures for DVD and television, Forry came to a Universal Pictures Golden Globe party accompanied by his great friend, assistant and caretaker Joe Moe. There's a well-known photo from that evening with Peter Jackson, Forry, Rick Baker, Basil Gogos, Bob Burns and me all together (the photo is on the back of THE SCI-FI BOYS DVD box and is in the book of Basil Gogo's art). The pinnacle of my years of friendship with Forry was in the spring of 2006 when Universal Pictures showed THE SCI-FI BOYS (edited by my son Scott M. Davids) at the Egyptian Theater in a double-feature with Peter Jackson's short about SKULL ISLAND (which is on the DVD of Jackson's KING KONG). Forry spoke at a panel discussion there with me, Rick Baker, effects designer Steve Johnson and Basil Gogos. Forry told Joe Moe upon departing, "Well, I guess it doesn't get any better than this. This may be the best night of my life." I attended many of Forry's birthday parties and we were friends to his death, December 4, 2008. The last photo of us together was taken at his Acker Mini-mansion on Halloween of 2008.
TheoFantastique: In your article in FATE you note that Forry was a skeptic, but you and Joe Moe had some curious paranormal experiences that makes you wonder. Can you summarize some of this?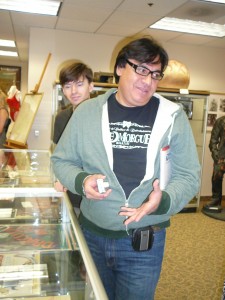 Paul Davids: First, some background on Forry's skepticism. He was an avowed atheist, having had negative experiences with organized religion while growing up. When his brother Alden was killed in the Battle of the Bulge in World War II, his feelings of the meaningless of his brother's death, combined with the horrible atrocities of that war, further estranged him from any beliefs in a Supreme Being. Forry rejected belief in ghosts, the afterlife, the supernatural and UFO's (and UFO's were always a topic of dispute between us). This was ironic because he was a world authority on all such things in the world of fiction, but he felt fiction and only fiction was where those topics belonged. Nevertheless, he did write one short story about a young fan of Lon Chaney who dies and goes to heaven and talks to God. To friends, he told the story frequently of a Ouija Board incident which seemed to tell his grandfather to undertake the design of the Bradbury Building in Los Angeles - and he kept the evidence an the "automatic writing" message on display. There are other such incidents reported in Deborah Painter's book, FORRY. Forry frequently asserted, however, that he assumed that when those who had known him personally were all deceased, he would be completely forgotten, and that except for his writings, which he thought wouldn't survive far into the future, it would be as though he had never been born. And he thought he would have no consciousness to ever know he had been alive. After Forry passed away, there were very strange things that happened to a group of people. It started months after his passing, the weekend of the memorial for him at the Egyptian Theater in Hollywood in March, 2009. The first two to have strange experiences were Mike MacDonald and Ian Johnston, two Canadian documentary filmmakers who made a film called FAMOUS MONSTER: FORREST J ACKERMAN. They have written about what happened, how after visiting Forry's crypt the Ackerman name popped up on their computer as code and a second computer burst out with a voice as if it was a message. Then Joe Moe had a lucid dream of Forry coming into his bedroom and talking to him about the memorial. The dream seemed like a real experiences and the things Forry said to Joe Moe seemed to really be from Forry. I did not know of Joe's incident when, a few days later, one of the strangest incidents of my life occurred. I was alone in our vacation house in Santa Fe, and while I was out of a room for just five minutes, the first page of a document of mine was changed by some moist ink that suddenly appeared, and there was no one there who could have changed it. Four words were precisely blacked out, with two different levels of opaqueness. Everyone who sees it says it looks completely deliberate and targeted, that it was no accident. The blackout seemed to indicate the message: "Spoke to Joe Moe." I have written about the incident in FATE magazine, and also at Whitley Strieber's Unknown Country website. It was as if Forry was confirming for me, to tell Joe, that he really did speak to Joe Moe, that Joe's experience was not a dream.
TheoFantastique: You even had some scientific testing done to apply to this. How does that apply and add to the mystery?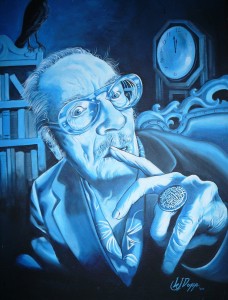 Paul Davids: I spent over six months working with chemists at two universities to try to get to the bottom of the mystery about the ink on my document. The Chairman of the Chemistry Department at Indiana University studied it with gas chromatography, the electron microscope and other instrumentation. A chemistry professor at New Jersey University studied it using mass spectrometry. Trying to duplicate the opaque ink became a class project at New Jersey University. After exhaustive tests of many kinds, both professors could not duplicate this and felt that the reasons for the chemistry of the ink were not possible for them to explain using all their extensive knowledge of paints, inks and solvents. Furthermore, some strange things happened to them while they were conducting the studies. This included a stack of pages related to the experiment being inexplicably scattered off a chair across the floor of a room while no one was present. Later, I discovered that the current tenants of what used to be the Ackermansion on Glendower in Los Angeles feel that the house is haunted. Without knowing what happened regarding the scientists I worked with, they reported incidents of pages being scattered onto the floor (from a music stand) repeatedly, in much the same way. The shadows of a man have been seen at night on the wall of what used to be Forry's office, and the shadows always disappear without anyone being present. This is a complex case and there are now many other unexplained incidents that have happened relating to it. Two years before Forry passed away he signed an autograph for me in FAMOUS MONSTERS right above a line of text that reads: "The invisible ink men strike again." There is also a painting (by L. J. Dopp) showing the exact minute of his death that was made four years before he died.
TheoFantastique: Why did you decide to make this the subject of your forthcoming documentary THE LIFE AFTER DEATH PROJECT?
Paul Davids: I made the decision to begin documenting all of this after the incident with the ink occurred. I filmed at the chemistry labs that tested it. This led to compiling interviews with many authors and researchers on the topic of life after death. Whitley Strieber's wife, Anne, came aboard as an executive producer, along with my wife, Hollace Davids. The project kept expanding so that it now has a long list of notables and deals with many aspects of apparent communication from those who are deceased. The film does not deal with certain aspects of life after death, such as reincarnation, and it only touches briefly on near-death experience. It does deal with spiritual mediums, apports, photographic evidence of communication from deceased persons and other strange experiences that resemble what happened to me. If I was ever a skeptic about spiritualism and afterlife communication, I can say that I now think it is a very real phenomenon, and I think it seems very real that the group of us, including author Deborah Painter, really did hear from Forry after he was gone. Perhaps he is not a skeptic about the afterlife now!
TheoFantastique: Where will interested readers be able to find out more about this film when it is near release?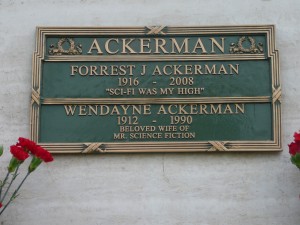 Paul Davids: It is too early to say when it will be ready. It is in an advanced stage of editing. I have tentatively agreed to screen it in October at the ASPE Conference in Taos (ASPE stands for Alliance Studying Paranormal Experiences), provided it is finished by then (it should be). I gave a lecture at the last ASPE about the strange case of Forrest J Ackerman and some of these experiences. My films usually make it to TV and DVD and sometimes play in some festivals. THE SCI-FI BOYS (available on DVD) played on the SyFy Channel and the Sundance Channel. ROSWELL was a Showtime movie, and JESUS IN INDIA played on the Sundance Channel. My latest film, BEFORE WE SAY GOODBYE (www.beforewesaygoodbyethemovie.com) now has a deal to play in Spanish on TV and throughout Latin America and South America, but we do not have a deal for an English language broadcast in the U.S. yet. Hopefully that will come. Interestingly that film has a life after death theme too, with a Latino cast. It deals in part with the story of the Virgin of Guadalupe, and part of the film was made at the Basilica of the Virgin of Guadalupe in Mexico where the famous tilma of St. Juan Diego with its unexplained image of the Virgin has been on display since the 1500's. The DVD is available at the movie's website. As for THE LIFE AFTER DEATH PROJECT, when it is available it will surely be announced at www.pauldavids.com and you will start to see publicity for it, including in FAMOUS MONSTERS magazine, which is being published these days by publisher Philip Kim.
TheoFantastique: Paul, thanks again for letting us now about your new film, and for sharing your experiences with Forrest J. Ackerman in both is mortal life, and perhaps beyond. Maybe Dr. Acula will have the last laugh after all, even beyond his own expectations.
Related posts:
"Paul Davids: Sci-Fi Boys and the Pied Pipers of the Imagination"
"Bader, Mencken, and Baker: Paranormal America"
Jeffrey Kripal - Authors of the Impossible: The Paranormal and the Sacred"