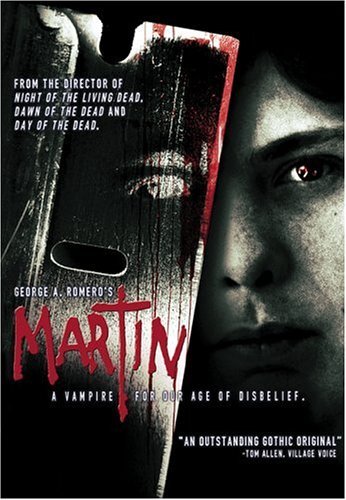 I am working my way through Gregory A. Waller's book The Living and the Undead: Slaying Vampires, Exterminating Zombies (University of Illinois Press, 2010), and came across an interesting quote in relation to the George Romero "vampire" film Martin from 1977.
This stylistically self-conscious contemporary story of an American teenage murderer, who may actually be a vampire or may only believe or fantasize that he is one, complicates – "re-vamps," to use Romero's word – not only our assumptions about the undead but also about the living. In Martin the vampire hunter is a monomaniacal, dictatorial, egotistical old man, who is obsessed with preserving the rigid and seemingly absurd conventions he has inherited from the "Old Country" and with simplifying all ambiguity and complexity he encounters in the New World. By pounding a stake into the boy's heart, the old man attempts to force life to confirm to his expectations…. The death of the teenager does not regenerate the economically depressed, deadeningly ugly modern world or restore its broken families or rebuild its decaying churches.
I think there is much to commend this quote, not only to its application to Martin and the social context of the film and 1970s America in which it was embedded, but also to our time. Martin is presented as a "vampire" film, as the poster accompanying this post indicates, for an "age of disbelief." It was also a time very similar to our own in terms of the oppressive effects of a recession, unrest in the Middle East, high gas prices, and America struggling at home and abroad. In response Waller suggests that Martin features a vampire hunter who seeks to destroy someone not only for their personal crimes, but also for what he represents in a desire for a return to the old ways of familiarity.
I wonder if we aren't doing the same thing in our time. Is it possible that we act as monster hunters, identifying various creatures that function as scapegoats in our quest for returning our times of social upheaval to the more familiar ways of the Old Country? They may be self-identified vampires, members of unpopular religious groups, or even fallen soldiers which some protest as alleged evidence of God's displeasure with America and homosexuality. But like the failure of the old man in Martin, it is highly unlikely that identifying, hunting, and slaying such monsters in our world will "regenerate the economically depressed, deadeningly ugly modern world or restore its broken families or rebuild its decaying churches."