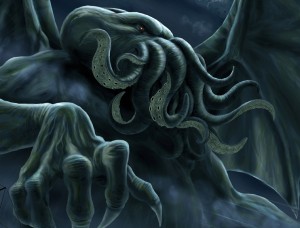 The latest issue of the online Irish Journal of Gothic and Horror Studies is available, #9 (February 2011). One of the worthwhile essays includes a piece that considers the impact of one of the most significant horror writers on Western esotericism, in an article titled "The Influence of H.P. Lovecraft on Occultism," by K. R. Bolton. The abstract:
Lovecraft's horror stories have become not just a literary cult like many others, but a tangible cult of the occult. The Cthulhu Mythos of the Old Gods with Unspeakable names are evoked and worshipped, and respected practitioners of the esoteric use the symbolism and mythos as the basis of a magical system. This essay examines some of the individuals, orders and doctrines of the adherents of the Cthulhu Mythos.
Related post:
"Lovecraft: Fear of the Unknown Documentary - Director Frank Woodward Interview"