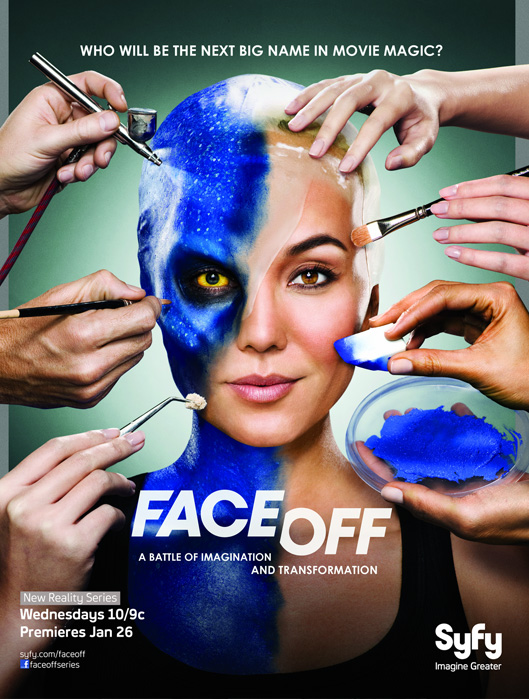 There aren't a whole lot of reality shows that are of any interest to me. Our current fascination with pop culture voyeurism is troubling, particularly in regards to some of the reality shows (and their "stars") that my teenagers find captivating.
One recently came to my attention that is worth watching for fans of the fantastic, made even more startling by the fact that it appears on the SyFy Channel, not a place known for the best genre programming. The program is called Face Off that pits makeup artists against one another in competition. As the program's website describes it:
Face Off is a competition/elimination series exploring the world of special-effects make-up artists and the unlimited imagination that allows them to create amazing works of living art. The contestants are tasked with elaborate feature challenges including executing full body paint make up on models and creating their own horror villain. Not only will the show incorporate effects make-up, it will include a wide range of skill sets including prosthetics, 3-D design, sculpting, eye enhancers, casting and molding. Each episode involves incredible reveals of the competitors' finished work, and the drama of one contestant being sent home by the panel of expert and celebrity judges. It all culminates in one winner and one grand prize that will launch a career.

To determine who emerges victorious, Syfy has signed three-time Academy Award winner Ve Neill (Pirates of the Caribbean, Edward Scissorhands) and Hollywood veterans Glenn Hetrick (Heroes, Buffy the Vampire Slayer, The X-Files) and Patrick Tatopoulos (Underworld, Independence Day, Resident Evil: Extinction) as Face Off's judges.
The series premiered at the end of January and airs on Wednesday evenings. Now if only there were enough interest in such things to see a program with competition between CGI artists or stop-motion animators.