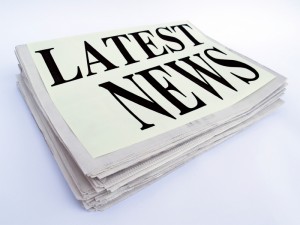 Here are various news items related to the fantastic in popular culture for the preceding couple of weeks. News items of significance are shared daily as they become available via my Facebook profile and Twitter account.
The right-wing agenda of the exorcism movie
"The Rite" is the latest film in a genre with a surprisingly conservative message about power and faith.
'The Rite' done right: Something possesses PopWatch Rewind to rewatch 'The Exorcist'
What an excellent day for an exorcism. While Anthony Hopkins is in theaters compelling demons out of people and dollars out of people's wallets with The Rite, we decided it was a good time to revisit the granddaddy of all possession horror, The Exorcist.
Saratoga pastor inspiration behind 'The Rite'
The Rev. Gary Thomas, the pastor at Sacred Heart Catholic Church in Saratoga, ought to know. He's the official exorcist for the Diocese of San Jose and the inspiration for the supernatural thriller "The Rite," opening in theaters Friday and starring Anthony Hopkins.
Spotlight: Fantasy Director Guillermo Del Toro
A spotlight by HorrorNews.net on one of the most busy horror and fantasy film directors today.
The Walking Dead Grabs Four Golden Reel Nominations
The Motion Picture Sound Editors announced their nominees for the 2011 Golden Reel Awards, and The Walking Dead was honored with a total of four nods for Best Sound Editing: Long Form Dialogue and ADR in Television; Best Sound Editing: Long Form Sound Effects and Foley in Television; Best Sound Editing: Short Form Dialogue and ADR in Television; and Best Sound Editing: Short Form Sound Effects and Foley in Television.
International UFO convention tries to be serious
The words "UFO convention" may conjure up images of aliens, Area 51, and fringe vests, but what about business professionals and politicians?
The Most Anticipated Horror Games of 2011
Rely on Horror shares their thoughts on anticipated horror video games for this year.
Popularity of vampires spawns subculture, scholar says
Reuters reports that, "They work as doctors and lawyers by day but lurk as vampires by night. While they may not wish to suck your blood, there are plenty of willing victims on tap, says the nation's top scholar on a subculture that emulates the undead."

'Alien' artist Giger: Monsters came from my nightmares
CNN reports that, "It is fitting that the creator of one of the most heinous and iconic movie monsters of all time should have once been plagued by nightmares. Swiss artist H.R. Giger brought his night terrors to the big screen in Ridley Scott's critically-acclaimed 1979 film "Alien." The iconic extraterrestrial and the myriad other monsters in Giger's early paintings and sculptures were inspired by nightmares that he would sketch out upon waking."
All the science fiction films from Sundance that you'll be raving about soon
i09 looks at science fiction films from Sundance: "Sundance begins today! In past years, the festival brought us great science fiction films such as Splice and Moon. But what will be this year's smash indie success? Here's a list of likely suspects."