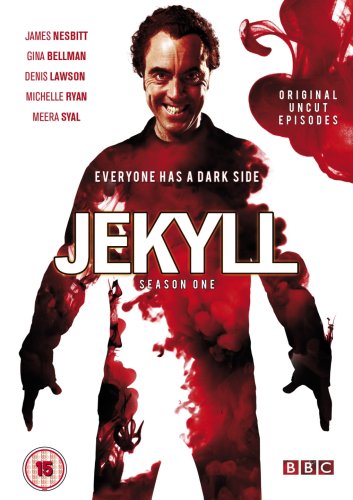 I have been invited back as a guest for the Cinefantastique Podcast that will be recorded this Sunday and uploaded for listening at some point next week. The focus for our discussion is the interesting BBC television program Jekyll from 2007. As will inferred from the title of the program, it takes its inspiration from Robert Louis Stevenson's novella Strange Case of Dr. Jekyll and Mr. Hyde.The BBC America website for Jekyll describes "The Legend" that has arisen around this story:
The Strange Case of Dr. Jekyll and Mr. Hyde is a novella written by the Scottish author Robert Louis Stevenson, first published in 1886. The story is told from the point of view of a London lawyer, John Utterson, who investigates the increasingly odd behavior of his old friend, the brilliant scientist Dr. Henry Jekyll. After relating a disturbing tale of an angry fiend assaulting a small girl, Utterson uncovers a horrific and terrifying truth.

The book was an immediate success and one of Stevenson's best-selling works. Stage adaptations began in Boston and London within a few months, and it has gone on to inspire scores of major film and stage performances and countless references in popular culture. The phrase "Jekyll and Hyde" has become shorthand to mean wild, controversial and polar behavior, or schizophrenia.

In more than 100 film versions, Jekyll has been played by such stars as John Barrymore in a 1920 silent version; Frederic March, who won an Academy Award for his deft portrayal in 1931; Spencer Tracy (1941); Jack Palance (1968); David Hemmings (1981); Anthony Perkins (1989); Laura Dern and Anthony Andrews in the dual role (1989); Michael Caine (1990), and John Malkovich in Mary Reilly (1996).
The BBC program does not represent another retelling of the Victorian story, but instead offers a fresh interpretation set in contemporary times.
Jekyll, described by writer Steven Moffat (Coupling, Doctor Who), as "somewhere between a modern horror story and The Odd Couple," is set in the present day and stars James Nesbitt in the title role. Dr. Jekyll is a contemporary man with an ancient curse of Mr. Hyde. But he's done a deal with his own devil – a body share – and keeps his dark side in check with the very latest surveillance hardware. Just barely keeping one step ahead of his alter-ego, Jekyll has managed to keep his wife and two kids a secret from the vicious Hyde. But what neither of them knows is that an organization with limitless wealth and power is monitoring their every move.

Creator Steven Moffat explains how he updated the classic tale: "There's potential to go in so many different directions with the tale – it's such a rich and strong idea – so here we go again! Another Jekyll and Hyde! The doctor and his dark side are back!

"What's new this time? Everything! Literally, actually new. For the first time the setting is modern day – no fog, no cobblestones, we're in London 2007. Dr. Tom Jackman is a new man with an old problem. If this story speaks to everyone with a dark side (everyone), why set it back then? Why not make it here and now? Why not make it a modern man in modern London? Why not have a helicopter in episode four?

"The story of Jekyll and Hyde was a shocking idea when it came out in 1886, and it wasn't a period piece. It was set in the modern day and was shocking in that this respectable man had this terrible dark side. Instead of a tale of naughty Victorian hypocrisy in London of long ago, why not make it about all the horrors slinking around the dark side of your mind right now?"
I had never heard of this program prior to my invitation to be a part of the podcast. I am glad to have been made aware of it as it provides an opportunity to reflect anew on this important horror story, and what it tells us about human nature, particularly our dark side. Unfortunately, there was only one season of this program, even though the final episode set the stage for a second. The six episodes comprising the season can be downloaded through Amazon.com's Video on Demand. After the podcast is uploaded and available for listening I will update this post and include a link.
Related post: