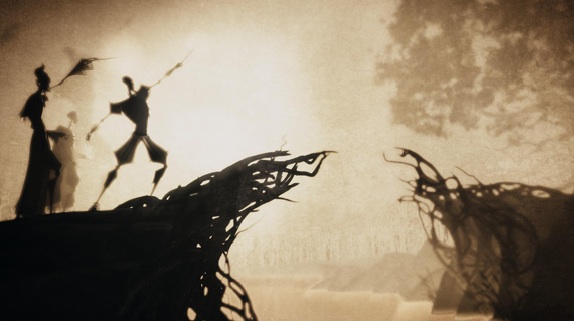 This last Saturday I went with my family to the theater to see the latest installment in the Harry Potter franchise, Harry Potter and the Deathly Hollows - Part 1. It may come as a surprise to regular readers of this blog who are familiar with my passion for the fantastic, but I have never been a fan of the Harry Potter phenomenon. I have nothing against the books or the movies, it just never caught my fancy. I suppose it's because in general I prefer more dark fantasies like Pan's Labyrinth, but this is certainly an entertaining fantasy phenomenon.
As I sat in the theater and watched the film I did find one segment of it of particular interest. It is the telling of "The Tale of the Three Brothers" which was of interest to me because it reminds me of classic fairy tales, and a dark one at that just as many of our childhood fairy tales are far darker than we'd like to remember. But this tale was also interesting in the way in which it was depicted visually. Rather than using narration and live action the visual elements of the film are presented largely in silhouette, either through articulated shadow puppetry or animation (it is difficult to tell how the effect was achieved, which adds to the beauty of the piece). The result is an intriguing fairy tale that I understand is a significant part of the two-part deathly hallows concluding films.
According to a post on this topic by Cartoon Brew, "It was directed and designed by Ben Hibon who produced it in association with Framestore. Hibon recently signed with Nexus Productions for repping." FXStore includes a lengthy interview with sequence supervisor Dale Newton on how he produced this sequence. For another, earlier example of Hibon's animation work see the his film Codehunters.
For now a video clip of this story can be found on YouTube at this link, but it cannot be embedded here.
Fairy tales have been explored in various facets on this blog before and the reader may benefit from these posts on the topic:

"Grimm Pictures: Walter Rankin on Fairy Tale Archetypes, Horror and Suspense Films"

"Pan's Labyrinth: A Grand Fairy Tale and a Key to the World of Wonder"