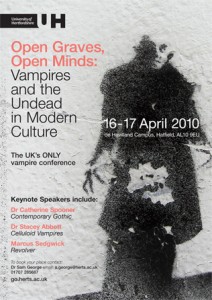 In a previous post I mentioned the Open Graves, Open Minds: Vampires and the Undead in Human Culture conference which looked at various ways in which the vampire serves as a metaphor in culture. The conference was held in April of this year on the campus of the University of Hertfordshire in the UK. (See the conference program here.)
As follow up with the program coordinator, Professor Sam George, I learned that the conference proceedings will be published in book form in 2012 on the centenary of Bram Stoker's death and launched in his London House.
Related to this discussion of vampires in the UK is an interesting article on whether vampires have become too "Americanized." The article, with the subtitle "Academics Lament How Vampires in Modern Culture Are 'Losing Their British Passports'; Decaffeinated Version of Dracula," appears, interestingly enough, in the Wall Street Journal at this link. The video below is found at the WSJ website as well.
Follow Professor George's website for updates and international media interactions with this conference.